– Rescheduled tournament to bounce off on Sunday
Cellular service provider Digicel yesterday announced their support for this year's National Basketball Festival (NSBF) which is now scheduled to start on Sunday at the Cliff Anderson Sports Hall.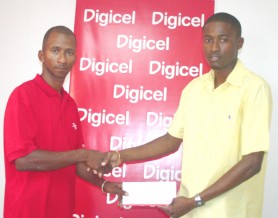 According to Digicel's sponsorship and events executive, Sherwin Campbell, they would be sponsoring the under-17 championships and  his company would make a monetary contribution to the top two schools in the division.
"We at Digicel are always committed to sports and its development in Guyana and we feel that this tournament is a great way for us to demonstrate that. So we would be giving a substantial amount of cash to the top two schools in the under-17 division which we believe should motivate the schools to come out and play hard," Campbell said.
He said further that with his company on board, participants this year can expect a bigger, better tournament since there will be lots in store. "Apart from the sponsorship we believe we would bring value to the  competition where we would be doing some promotions during that period, especially for schools and so on, so we are on board in a big way," Campbell added.
Digicel, since coming to Guyana in 2006, has been showing great support for sports and Campbell mentioned that this is because they have one policy across the Caribbean where they put much emphasis on community development and sports.
The inclusion of Digicel in this year's tournament will be healthy support from corporate Guyana for the 26-team NSBF.
Local beverage giants Banks DIH Limited has taken up the under-19 'Big Ten' championships while Giftland Office Max will be taking care of the equipment which will be used during the tournament.
Initially, the tournament was down to start today with a grand opening ceremony and a game among some of the top 14 players in the school system,  but according to a release from the organisers, it would now take place on Sunday, June 28 from 2:00 pm.
This was done, the organisers said, to facilitate the full readiness of all participating schools and to satisfy every aspect of their agreement with their sponsors.
The tournament is being systematized and run by Street Solutions and Next Level Entertainment (NL) in association with the National Sports Commission (NSC).
Around the Web