Guyana had earlier gained silver medals in both the men's and women's team events.
On Saturday they added two gold medals, four silver medals and four bronze medals to end as runners-up to Trinidad and Tobago.
Trenace Lowe won gold in the girls'U-21 singles while Lowe and Michelle John won a second gold medal in the women's doubles.
John gained a silver medal in the girls-U-21 singles, Idi Lewis and Paul David won silver in the men's doubles, Colin France won a silver medal in the Over-40 veterans singles and David and John gained a silver medal in the mixed doubles competition.
Bronze medals came from Lewis and John in the men's and women's singles, Christopher Franklyn and Lowe in the mixed doubles and Nigel Bryan in the boys' U-21 singles.


According to team captain, Paul David, the results could have been better.
"Aruba had a player that probably should not be playing for them. We (Men's team) only lost to Aruba."
But the success story for the team was the performance of southpaw Lowe and to a lesser extent her teammate and main rival, John. It seems as if the see-saw battles between the two players are set to continue indefinitely.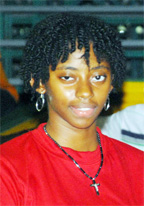 Lowe lost to John in the final of the Caribbean junior girls' singles 2008 championships held in Guyana and she was also eliminated from the women's singles by John in the quarter-finals.
On Saturday, Lowe found herself staring down the barrel of another defeat in the girls' U-21 singles final but recovered to capture the title by a 4-3 margin.
It was, she told Stabroek Sport yesterday, her biggest triumph.
"I'm very proud because I didn't get to win the Junior Caribbean singles crown this year," she told Stabroek Sport yesterday.
Asked how she managed to turn the game around after being 1-3 down, Lowe said simply…"I had to get the attack first."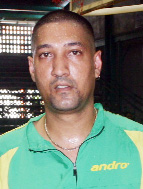 Lowe and John were able to put their rivalry aside and team up to win a second gold medal for Guyana in the women's doubles.
The pair also had to dig deep to defeat the Barbadian pair of veteran player Ann Reid and Sabrina Worrell whom they trailed 1-3 in the best of four games final.
In the men's singles competition Lewis reached the semi-finals before bowing out to former Caribbean men's singles champion Trevor Farley while David lost to France-based semi-professional player Dexter St. Louis in the quarter-finals.
Lewis was down 3-0 and battled back to 2-3. He had his chances in the decider before bowing out and yesterday told Stabroek Sport he was proud of his best ever showing at the championships.
"I think it was great. I was struggling in the team events but from the quarter finals my game just clicked, it just came together and moved from there."
David too was proud of his showing. "The tournament was a great success for me winning two silver medals. It's the furthest I've reached," he declared.
The Guyana team is expected home today.
Around the Web