The 2009 National Senior Karate Championships took place on Sunday at the Cliff Anderson Sports Hall showcasing senior karatekas from four dojos in the Georgetown area.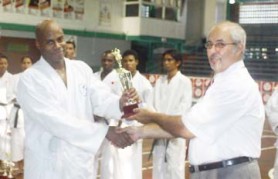 Members of ISKF Guyana, the Guyana Wado-ryu Karate Association, SKIF and Japan Karate Association-World Federation Guyana (JKA/WF-G) began their programme of events at 13:00hrs with a march-on of all competitors.
President of the Guyana Karate Federation (GKF) Amir Khouri delivered a short welcome message to a small crowd before the introduction of officials and a march-off of karatekas.
Opening remarks were given by the Minister of Culture, Youth and Sport, Dr. Frank Anthony. Dr. Anthony commended the Federation for its effort in hosting the tournament regularly and its commitment towards sports and healthy lifestyles.
The minister urged the Federation to decentralise and open more dojos where persons interested in learning karate can go.
Spectators were entertained to a few demonstrations before the Male Kata Open event got underway.
A short presentation of trophies to first, second and third place finishers were given out to close the competition.
Meanwhile, the GKF expressed its gratitude  to its sponsors – Guyana Red Cross and the National Sports Commission –  for their support of such a major karate competition.
Male Open Kata
1. Patrick Cheeks
2. Orin Edghill
3. Patrick Cheeks
Under 60kg Male Kumite
1. Jacob Richards
2. Mahendranauth Sanichar
3. Mohammed Khan
Female Open Kata
1. Claire Cheeks
2. Nikita Clark
3. Althea King
Under 80kg Male Kumite
1. Christopher Waddell
2. Michael Harding
3. Shahab Zamon
Female Open Kumite
1. Rovina Reid
2. Claire Cheeks
3. Nikita Clark
Over 80kg Male Kumite
1. Darren Nurse
2. Ron George
3. Kevin Isaacs
Around the Web