By Marlon Munroe
Acclaimed amputee marathoner William 'The Conqueror' France has come out in support of national race walk champion Rudolph Mitchell urging him to promote his career by participating in overseas competitions.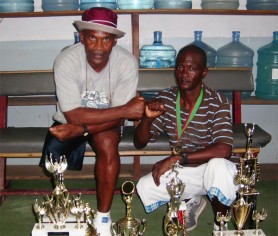 Mitchell, who has never competed overseas, has over 100 consecutive wins under his belt  and is eyeing the Barbados Marathon and Race Walk event in December and then another meet in Brazil in February next year, according to France.
France stated that he had come to admire the feats of the 47-year-old race walker after constantly reading about his exploits in the media.
He added that from next week he and Mitchell will be training three days per week until December in the sand hills on the Linden Highway.
France said that with the impending exposure, he will be aiming for the Lindener to compete at the 2012 Olympic Games in London once he makes the qualifying standards required to participate in the games.
Mitchell, speaking with Stabroek Sport yesterday, said that while he has not been competing in the internationally accepted distance that stipulates a marathon (26 miles), France will be setting up a 26-mile race walk event from Number 43 village on the Corentyne Coast on October 29 so that Mitchell can go to the event in Barbados with an official time in the 26-mile event.
France also stated that he will be registering Mitchell for the annual Boston Marathon in the USA set for April 21, 2010. He said that he will be soliciting the help of the Ministry of Culture, Youth and Sport to ensure that Mitchell's participation at that event becomes a reality.
Mitchell, however, noted that he recently walked 47 miles in just over nine hours. Mitchell also beat Dennis Burns and Andre Richardson, two notable amputees who participate around the Caribbean and further afield, at the William France 16th Annual Fitness Walk last month.
The bare-footed walker who is a member of the Cavalier Sport and Tour Club (CSTC) since 1993 said that he was eager to commence training with France and would not rule out the possibility of France being his manager.
France, on the other hand, said that he was interested only in seeing Mitchell succeed because he was naturally gifted and he should be given all the opportunities to succeed.
France said that if persons start recognizing what Mitchell does he might be able to procure sponsorship just as when he (France) did when he started walking. France said that there are already persons on board to sponsor his airfare to the upcoming events while another sponsor has already dedicated himself to purchasing the footwear for the event next year on the Corentyne Coast.
When Stabroek Sport enquired about nutrition and supplements Mitchell stated that he used "the ordinary Creole foods".
He said that he does not believe in supplements but rather his own natural talents that he has been blessed with and for this a wager of US$100 is being offered to anyone who beats him in Berbice.
Mitchell, who is also a karaoke disc jockey, will also be competing in a fitness walk event on October 17 where the first three finishers will be recipients of trophies and hampers.