– Lethem women defeat Linden
Liquid Gold, Alpha 'The Hammer' United, the Guyana Defence Force (GDF) and the Lethem Women team were the latest winners in the Guyana Football Federation (GFF) Men and Women Super League competition at venues throughout the country on Sunday.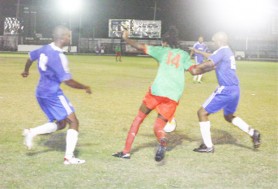 In the triple header at the Georgetown Cricket Club (GCC) ground, Bourda, Lethem sank Linden 2 – 0 in the female showdown, GDF buried Milerock 4 – 1 and Alpha United flattened Linden's Bakewell Top XX, by the same margin.
Liquid Gold treated their home crowd to a 2 – 1 victory over Rosignol United in Bartica while Seawall FC and Sunburst Camptown played to a 1 – 1 draw at the Uitvlugt Ground.
Spectators witnessed the same final result between Buxton United and Victoria Kings at the Plaisance Community Centre Ground.
Sonia Griffith opened the scoring for Lethem in the 20th minute and Janet Wencexlaus doubled the lead in the 49th minute.
Seon Brewley led the GDF dominance of Milerock finishing with a double in the 61st and 64th minutes. Keon Joseph and Sean Arthur scored for the army team in the 26th and 49th minutes while Milerock's lone goal came in the 40th minute.
Bakewell Top XX got the upper hand against Alpha United in the first half with Jaime Wilson drawing first blood for the team from the mining town which led 1-0 going into the second half.
Elso Dias equalized for Alpha United in the 52nd minute and he went on to record a double in the 76th. He was supported by Quincy Madramootoo and Howard Lowe who found the back of the net in the 55th and 86th minutes.
Gavin Brown struck first in the 16th minute against Camptown but then the match was pulled back in the balance when Devon Mosley equalized in the 31st minute to complete the draw.
The other draw in the tournament saw Esan Haymer scoring for Buxton United and Orin Elias being successful for Victoria Kings.
Around the Web