Gibran Hussein departed Guyana Sunday for Venezuela quietly confident of doing well at his first Paralympics table tennis Tournament.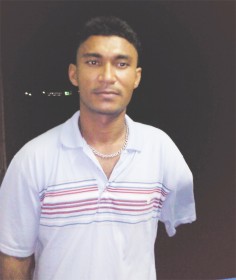 He has been a regular competitor on the local scene and despite his handicap has managed to best a number of strong players.
Hussein has only one hand.
He serves by throwing the ball up with his right hand as part of his left hand was amputated in an accident sometime ago.
Hussein has created history by becoming the first Guyanese table tennis player to participate at a Paralympics event. His is a tall order as players from the United States of America, Canada as well as other South American countries will be participating in the tournament which started yesterday.
"I think I'll do well," he told Stabroek Sport prior to his departure adding that he thought that this was the first time that Guyana was sending a player to the championships.
General Secretary of the Guyana Table tennis Association Godfrey Munroe admitted that this was so and said that he expected Hussein to do well.
"Gibran is truly an exceptional talent. Most folks who see him play are usually in awe of his abilities wielding a racquet. He will be playing the level 8/10 singles event and the Open singles and is schedule to return on October I, "Munroe told Stabroek Sport.
Hussein was first spotted by Alejandra Gabalio, International Table Tennis Federation (ITTF) Trainer who visited Guyana sometime last year to conduct an ITTF level 1 certification course.
The course dealt  in large measure with the development of Paralympics athletes.
"When she saw Gibran's talent, she truly implored upon the GTTA the need to have him exposed to international competitions, given in her words that he could do well in major tournaments," Munroe said.
Based on his classification, Hussein will compete in level 8-10.
Athletes receive classifications between 1-10. Class 1-5 are for those  in wheelchairs and class 6-10 for those who have disabilities that allow them to play standing. Within those groups the higher classification means the more function the athlete has, Munroe explained.
Hussein's ultimate goal is to represent Guyana at the Para Olympic Games in 2012 and Munroe said in that respect, the GTTA's goal was to put the systems in place to look at developing more talent at the different levels given that there are 10 levels.
"Despite the fact that we have started working with some other Paralympic athletes, the need to have a more structured programme will see the setting up of a steering committee to specifically  look at developing our Paralympics athletes so that we can have full fledged representation in future engagements and a vibrant domestic Paralympics programme with competitions etc," the general secretary who is also the national men's singles champion disclosed.
"Our current disappointment lies in the fact that we could not have a manager go with Gibran due to resources limitations.
However, Gibran has not used that fact as a deterrent and was truly enthusiastic about practicing daily and attending the championships which is a true testimony to his resilience.
Hussein told Stabroek Sport that he has trained very hard for the tournament doing lots of table and gym work. Being the lone Guyana representative he will be unable to play in the team tournament but said he will give the singles championships his best shot.
He is grateful to the Corriverton Links Football Club, A. Ally and Sons, Roy Baijnauth, Mayor of Corriverton and Republic bank Guyana Ltd., for assisting him with sponsorship.
"Gibran is our elite athlete, current standard bearer and he carries the torch for the GTTA's Paralympics Table Tennis programme," said Munroe.
Around the Web