By Tiadi Blair
The Guyana Lawn Tennis Association (GLTA) plans to hold its Annual General Meeting on October 12 at the Georgetown Club at 17:30 hrs.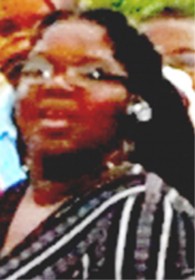 At that meeting the GLTA plans to tackle issues that have arisen over the past year regarding the sport.
In an interview with Stabroek Sport, secretary of the GLTA Grace McCalman stated that there were a number of key issues the organisation had to attend to, including obtaining their own facility and making adjustments to the structure of tennis in Guyana.
McCalman said that she was aware of the tennis courts being constructed on Woolford Avenue but was unsure when it would be completed.
The GLTA has utilised the facilities at the Le Meridien Pegasus Hotel for a number of years but McCalman believes that now was the time for the association to step out on its own two feet and acquire a facility.
McCalman added that she was happy with the increase in the number of junior members in the GLTA which she said was due to the re-establishment of tennis in primary schools, an initiative headed by tennis coach and National Junior Initiative Tennis Coordinator Shelly Daly-Ramdyhan.
"We are very pleased to have seen an increase in the number of young players because there is where the talent originates from. However, there is more work to be done in the schools to improve the current tennis programme we are running at the moment."
McCalman was tight-lipped, however, about details of the AGM but said the organisation needed to put outstanding accounts in order and identify much needed volunteers for the GLTA.
The positions that will be contested are President, Life Vice-President (2 positions), Vice-President (Chairman, Planning and Infrastructure), Vice-President (Chairman, Finance and Fund-Raising), Secretary, Treasurer, Assistant Secretary/Treasurer, Chairman of Junior Development, Chairman of Senior Development, Chairman of Tournaments, Chairman of Mini-Tennis and Public Relations Officer.
Meanwhile, all tennis clubs who have outstanding dues should contact the GLTA to submit their 2008/2009 club dues and nominations on or before October 8 in order to confirm their affiliation with the GLTA and have a chance to participate in the AGM proceedings.
Members of all clubs are invited to attend the AGM, but only registered affiliate clubs who are in good standing by submitting their dues beforehand may vote through a single representative member.
McCalman also extended thanks to the Ministry of Culture, Youth and Sport for continually supporting the organisation during activities and giving financial assistance where necessary.
The Clubs that are expected to be registered to participate are:
* Georgetown Tennis Club
* Georgetown Cricket Club
* Everest Cricket Club
* Wimbledon Tennis Club
* DST Tennis Club
* LBI Tennis Club
* Park Players Tennis Club
Around the Web