Guyoil yesterday handed over $200,000 to the Guyana Amateur Bodybuilding and Fitness Federation (GABBFF) to assist their athletes attend this year's Central American and Caribbean (CAC) championships in Grenada from October 1-4.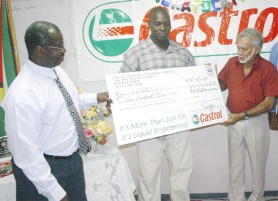 The company also honoured recently-crowned `Mr. Guyana' Oswin Jones; an employee of Guyoil and a member of the CAC team.
At a simple ceremony held at the conference room of the Guyoil, Kitty Service station, Chairman of the Board of Directors, Dr. Bud Mangal, reaffirmed his company's commitment to sports in Guyana whilst making the presentations to Jones and the GABBFF.
Badrie Persaud, Guyoil's Managing Director, spoke glowingly of Jones whom he said has certainly made their company proud of his recent achievement.
"I can't say how much we are proud of his (Jones) achievement. We felt obliged to honour him because of what he has accomplished and being our employee and I wish him well and I know for certain, as a matter of fact we are sure, that when he goes overseas, he will do us proud again," Persaud noted.
Meanwhile, Minister of Sport, Dr. Frank Anthony, lauded Guyoil for honouring Jones, and said that he believed that it was the right thing to do since it would encourage more persons to get involved in the sport or just try to stay fit and healthy.
President of the GABBFF, Frank Tucker, lauded Guyoil for what he deemed as one of the timeliest contributions to date for his federation.
He said that for the company to pay homage to Jones was also a point for other employers to take note since sometimes athletes normally find it very difficult to get the much-needed time off to prepare for an event.
"The journey was long and hard for me and I know it will get longer. So I want to thank Guyoil for what they have and are doing for me right now and all I can do is go out there and continue doing my best make them more proud of me," Jones said while thanking his employers for their assistance.
Apart from receiving a plaque of recognition for his hard work from Guyoil, Jones also received $50,000 from the Guyoil Sports Club to aid his participation at the CAC championships.
Around the Web