–  says Shondell Alfred
Following yesterday's news of an impending protest from Corinne `The Panther' De Groot   after her defeat to Shondell `Mystery Lady' Alfred on Saturday for the World International Boxing Association (WIBA) bantamweight title, the 'Mystery Lady' is now saying that her win was legit and that she does not have a problem in facing `The Panther' again as she was confident of defeating her once again.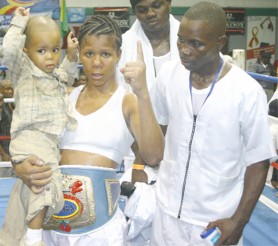 De Groot's team is arguing that Alfred was sent four times to the canvas and that at least twice she was legitimately knocked down although referee Eion Jardine ruled that they were not knockdowns but rather slips. "I fought a good fight and I think she (De Groot) is just now a set of excuses because she didn't do as much as what people think she would have done when she was coming here. As for her claims, all the time I went down was by a slip or by a push because she was really pushing me in the last round and so on because she knew she was losing," said Alfred.
The new WIBA champ added:"She just making things up now but if they review the tape and so on, they would have to do what they have to do but all I know is that I beat her once and I know that I can beat her again. But I know I won that fight, fair and square. No referee, no nothing helped me. I did it on my own."  Her coach, Seibert Blake, who has been in her corner since 2001, believes that the claims made by De Groot are ridiculous and that his fighter was the better boxer on the night and that is what counts. "I don't understand where all this is coming from but Shondell won that fight and I'm not saying that because she is in my corner but from the outside looking in she won it fairly. They say that they would have to review the tape; well we are just here waiting for the outcome which we know for certain will reveal nothing what they are claiming," Blake said. According to Blake, they have no problem with giving De Groot a shot again because "she (De Groot) has nothing on us. When she came here all the hype and so on was about her and my fighter was just here you know working hard because she knows how much it (getting a world title) means to her. So if she wants it again in the future no problem because now we know everything what to do while she still has to solve the mystery." The final decision is said to be with President of the Women's International Boxing Association (WIBA) Ryan Wissow but Stabroek Sport could not ascertain if he was in possession of the tape. President of the Guyana Boxing Board of Control (GBBC) Peter Abdool on Monday confirmed that the De Groot camp had indicated their intention of lodging a protest.
Meanwhile, Blake disclosed that Alfred had gotten an offer to fight for the WIBA Super Flyweight (115 lb) World Title and said that once the offer was right they would "go for it." "Well, we did get the offer and we accepted because as you know, for this last fight, we fought at 114 lbs which is Shondell's right weight so we will take it with open arms but we said once they find the right promoter we don't care about the country, we will go for it but it's still a bit early so we'll see," Blake said.
Around the Web