– 2004 silver medalist Duke optimistic
Mr. and Ms. Guyana Oswin Jones and Alicia Fortune, along with Rawle Greene, Alfred Jordan, Marlon Bennett and Clint Duke all departed Guyana yesterday  for destination Grenada where they will clash with some of the region's and Central America's best bodybuilders at this year's CAC championships.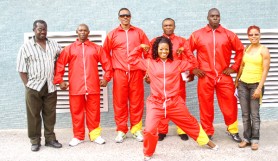 The team is being accompanied by president of the Guyana Amateur Bodybuilding and Fitness Federation, Frank Tucker and Treasurer, Fiona Harris. The event commences today and concludes on Sunday.
One of the six competitors, Clint 'Stone Cold' Duke, says making the journey alone is like payment for his dedication to the sport over the years.
A 14-year veteran of the sport, Duke yesterday told Stabroek Sport prior to his departure that it wasn't easy preparing for the event while having to work twice as hard to find sponsorship.
"I don't like bodybuilding, I love it. So that is why year in, year out I come out and compete regardless of whether I was training or not because of the love I have for the sport. Almost every  year I am selected to represent Guyana at the CAC but sponsorship has always been a problem, so that's why this year I know it was so close to Guyana I had to do whatever so I could to make it because I know I will be very competitive," Duke said.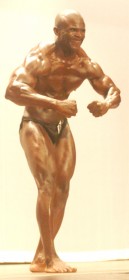 In 2006 when the competition was held in Jamaica, Duke made his most recent appearance at the Central American and Caribbean (CAC) championships, and placed fourth in the lightweight (under 164 lbs) class.
However, in 2004 when the event was hosted in Guyana at the National Cultural Center, Duke was able to capture a silver medal in the under-154 lbs class which he says to date is his most memorable moment in the sport.
At the last GABBFF Senior Championships, Duke easily put away 11 other competitors, including Jordan and Bennett to clinch another title in the lightweight class. He placed second overall to Jones with Greene third overall.
"It wasn't easy for me you know, training hard because everyone knows that I'm always working out but for this event I put in real extra work. So it wasn't easy doing all that then still running looking for sponsorship because in Linden, most people are not lovers of the sport. They like it but not as much. However, I'm really grateful for the little assistance I received; it's a lot of money to prepare for these shows," said Duke.
Duke, a former holder of the Mr. Guyana title, said that inspite of all the challenges he faced while preparing for the championships; he would not be deterred from going for the gold.
"It's like I'm really pumped and ready to hit the stage because I know how much agony I went through to make it here and I want to make the best of it. You know I'm a warrior; I'm a soldier so all that wouldn't hold me down at all. It would just give me more courage to go out there and do my best because I'm always prepared to do my best," Duke added.
The 37-year-old Duke also has high hopes in his teammates whom he says can come out on top if they all stay focused.
"The guys are good.  I think they have what it takes to match any other bodybuilder out there but they just have to stay focused on what they are going out there to do you know. So it's good to have a large team heading out there and I know we'll do well."
Around the Web