-former national cyclist Aubrey Bryce
Former national cyclist and Olympian Aubrey Bryce has offered to collaborate with the Ministry of Culture, Youth and Sport to run a modern coaching programme for cyclists after noting the talent of riders such as Alonzo Greaves.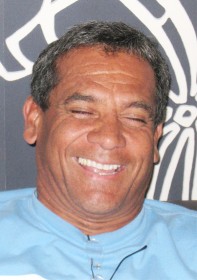 Bryce, who represented Guyana at the 1968 Olympic Games in Mexico, honed his talent among riders the calibre of Bruce Camacho, Eon D'Ornellas, David De Freitas, Raymond Lee Own, Dennis Medford, Aubrey 'Gibbe' Gordon and others. At the 1968 Olympic Games in Mexico, Bryce participated in the 1000m time trial and in the sprint where he placed third in the first heat thereby advancing to the repechage.
Bryce is a qualified Union of International Cycling (UCI) Level Four coach and though he now resides in Canada a few years ago he conducted a Level Two course here. Recently he spoke exclusively to Stabroek Sport (SS)of  his impressions concerning  the sport here.
SS: What factors do you think influenced the development of outstanding cyclists such as George 'Boy Blue' Cumberbatch, 'Boogie' De Frietas, Neville Hunte and yourself and others,  during what some cycling pundits have referred to as the 'golden age of cycling in Guyana?'
AB: "As far as I can remember, Guyana has always had a rich and storied history in cycling. It's interesting that the term 'golden age' at least in present-day vernacular, always seem to refer to a period long past. As I see it …cycling in Guyana has had success in every generation in the past; is currently enjoying the same if not more success in the present and with youth in our favour that showcases the talents of bike riders the likes of Allen, Williams, Simon, Holder and Greaves and, the ever present "funnel" of an emerging talent pool in Hassan Mohamed's youth programme, I see nothing preventing this rich history from continuing.
"There are a number of elements that together help form our love affair with the bicycle. The first, which I believe to be the basis of this relationship, is that we are a bike-riding community. Cycling in Guyana is neither gender nor generation specific. It straddles all social barriers. So whether we are going to the market, the corner shop, to school, to work, to the cinema, for recreation, for health and for fitness, we have ridden bikes. From all points in the Greater Georgetown area bike riders can be seen riding bikes to their chosen points of destination.
"During contemporary times, our "rush' hours in the morning, at lunchtime or in the evening saw us riding our bikes to and from school or to work or to play. Inevitably, groups that formed for a spirited ride into town turned into a drag-race to particular points along the way before an individual would turn off to their point of destination. Because of it we really never needed a formal way of identifying those who had an inherent talent for cycling. We just knew.
"On the road it was evident. And those "races" during our normal everyday living helped us decide very quickly who would be a racing cyclist while those who were not particularly gifted to be racers developed a keen sense of appreciation of the talent around them, watched over us, provided encouragement to take the next step and supported us on local, regional, national and international levels.
"Once we had bicycles plying the roads, getting our citizens to work, school and play, we had a process and continuous pool of cyclists and bicycle-minded individuals that perpetuated the culture. The second major factor is an extension of the first. Our community embraced the sport. We were passionate about it and its participants. The community knew who the bike riders were. They came out in droves to support and see us race on the track.
"Whether it was one of the major grounds in the cities of Georgetown or New Amsterdam or any one of the Sugar Estates on the East or West Bank, or the East or West Coast which, in celebration of their harvest would host invitational cycling races at their community sports events, spectators would come out to see their favourite riders take on the opposition, whether that opposition came from a neighbouring village, a rival city or internationally. Locally, it was their riders against the rest. Internationally, it was we, regardless of our limitations in terms of equipment, facilities coaching, experience or any acute lack of resources, pitted against the world. So much so, as an individual, when I was racing I always felt that I was the instrument through which my supporters would impose their will on my opponents. When I lost I felt as much disappointment for me as I did for them. I saw it in their faces. By the same token when I won, the esteem, satisfaction and self-confidence that I got in winning, I know must have affected them the same way. Cycling united us. The competitor in me became them and in return they lived their fulfilment through me. These are two of the main factors I believe forged such a following and fellowship in our cycling community.
SS: The current administration has been plugging the development of tourism here including sport tourism. Do you see the likelihood of cycling playing a significant role and how could that come about?
AB: "There are countries which I believe to be less fortunate than ours [which struggle] with serious internal conflicts, even wars, some with less-than-favourable infrastructure issues [that] have been promoting tourism through both recreational and competitive cycling. If countries such as Bosnia, Guatemala, Croatia, Costa Rica and others can do it so can we.
"One possible area of opportunity is off-road cycling. Over the recent past, this segment of the tourism industry has led the way in terms of growth. Through eco-tourism, consumers are opting for the added-value benefits of health and fitness together with the inherent stress-relieving and relaxation qualities that holidays of this nature can bring.
"With a global shift in awareness and direction to a "green" economy and United Nations recognition at the recently concluded 2007 Bali climate conference that Guyana is a leader in "carbon offset" against global warming, therein lies the platform for promotion of an eco-tourism destination. Statistics are currently indicating that there is a worldwide growing market demand for this particular type of holiday amounting to billions of dollars on an annual basis. That said, it will only happen in Guyana when there is an effort and commitment, supported by the community, embraced by the administration and passionately promoted by the cycling fraternity, tourism agencies and related businesses in developing a strategic and workable plan to attract Guyana's share of this pie.
"In years past, I have been invited to ride the trails laid out for eco-tourism purposes at Arrowpoint Resort.  Mr Gerry Gouveia has three routes on his property with varying degrees of challenge from purely recreational to competitive. I spent an entire day riding those trails but in the end did not have enough time to complete all the trails. From my perspective, what I saw and felt was pure joy. Arrowpoint's trails can compete with anything that I have seen and experienced in my cycling travels in Italy, France, Portugal, Cuba, etc. We possess a particularly rich heritage of Guyanese culture coupled with a world-renowned reputation of flora and fauna that can serve the basis for an unbeatable "Getaway Holiday" promotion. I don't really understand why Arrowpoint and the others such as Baganara, Dadanawa and Shanklands do not promote this particular aspect of tourism in Guyana more vigorously. It is both an industrial and financial opportunity surely being missed in a big way.
SS: Can you share some highlights of the most recent Annual Three-Stage Cycle Race that you participated in here?
AB: "I always love coming back to the land of my birth to race. The older I get, the more I enjoy it. Truth be told, I believe that I ride a number of levels beyond my wildest expectations when I am home in Guyana. Like I tell the folks here in Guyana, this used to be "my yard". There are still people here who remember me. There are those who have never seen me race, but once they become associated with the cycling community they have surely heard about me. As such I need to "represent" and not be seen as an old wash-up and punch-drunk relic of a bike rider.
"The thing though that impresses me most about this particular race is that it showcases the talents of Guyana's best. Currently, we have some cyclists, the quality of which I don't believe that I have ever seen in the annals of racing in Guyana. Not in my cycling experiences anyway. Presently, I do believe that Alonzo Greaves is among the very best. When I was here in 2004, I had the opportunity to race this very three-stage bike race with him when he was still a junior. I observed his talent then and knew almost instantly that he was something special.
"It prompted me to comment to the then President of the Guyana Cycling Federation, that he for one, should be invested in.  Seeing him perform four years later during the 2009 edition of the race validates my assessments of his talents then and serves to convince me that I was right in my predictions on him then as surely as I am about his talents now. I say, blow the bank, buy this kid a ticket to Europe now, find him some good equipment, get him a billet in Belgium, back him financially for a season of racing, and watch a raw diamond morph in the finest gemstone that Guyana will have ever produced. Then there are the youngsters. During this year's race I saw them ride. At 16, kids like Christopher Holder and Geron Williams are riding way beyond their tender ages. With strong guidance, wise mentoring and skilled tutelage, the future is bright for these two kids in two or three years as they reach the highest levels of cycling. I have not seen Darren Allen ride. But I have seen reports in overseas newspapers of his cycling exploits. He should also be one to watch.
SS: In the local media some observers called that race coverage routine; devoid of much colour, drama and excitement. Drawing from your international experience how could the media lift its standards in reporting about this particular event?
AB: "To me, the three-stage race is the stalwart of racing in Guyana today. I rode the first ever "Tour of Guyana" in November of 1967. Mr Bunny Fernandes of the Continental Cycle Club promoted it then. I was a member of that club. Buddy Mohamed has continued this tradition to this day and as such, this race is known in Guyana and the West Indian Community as a "classic" of sorts. A tip of the old Stetson to Mr Mohamed on this one.  "As such, I believe that this race should be recognized in all forms of the media for its longevity as well as what it has brought to the sport of bike-racing in Guyana. More importantly…this race, because of its history and reputation does have the ability to attract significant attention. As I see it, there are developmental and promotional opportunities being missed because of limited media exposure. Don't get me wrong. There is indeed race day coverage of each stage but just barely.
"For the most part, coverage is limited to a pretty straightforward report on how the race was won, how events progressed, who was first and who were the aggressors at a particular point in the race. That's very basic. But after 40 years of such reporting, this sort of coverage becomes mundane. Of course, reporters need to look directly at the race for objective coverage, but there are special need stories, special interest stories, behind-the-scene stories that need to be covered too in full colour with all the drama and excitement that is inherently integrated as the event unfolds.
"For example, during this year's race there was what I believed to be the story of the race missed by all of the media. That story was an amputee bike rider. He rode in every day from his residence on the West Bank. On Friday morning I saw him on the Kelly Dam at about 7 o'clock with a knapsack on his back, having made the trip from his home on the West Bank to train on Kelly Dam that morning before leaving on the truck that would eventually take him and the rest of the races' participants to Springlands for race-start on Saturday morning. He had no intention of riding back home on Friday before hopping on the truck to Springlands, so he opted to stay in town, without breakfast or lunch, then to endure that long truck ride to Springlands in the hot midday sun to spend the night there before starting the race on Saturday morning. Makes one wonder, with no good sustenance for breakfast or lunch on Friday, who knows what he would be doing for supper on Friday evening and breakfast the following morning prior to the start of a three-stage, 180-mile cycling road race. At that point food did not matter. The race did. Amazing! He started the race, finishing the first and second stages in a strong position. Then on Sunday morning at the beginning of the third and final stage, not so soon after we departed Linden, he launched a hard, vicious attack, one arm and all, off the front of the first group and held it there for just about the majority of the ride through the hills of the Linden Highway.…a truly amazing performance for any able-bodied athlete, let alone one with a major handicap such as he had.
"Stories such as these should not be missed. It's a special interest story of the highest magnitude. It raises awareness and sends a message that "if you think it, you can do it". It advocates positive attitudes and promises hope – a message that I am sure will bring benefit to many constituents in the Greater Georgetown area. There are other elements that can be incorporated into the race promotion where the organizers, the community, the press corps and business can make for a "win-win' partnership. Get big business involved. Some already are. Provide visibility for them to encourage an even greater support. Have an exposition the week of the event. Provide a small space in a ministry office (Ministry of Culture and Sport) for business supporters to display and promote their goods and services in synch with a theme that capitalizes on the values of sport. Themes like leadership, team work, strength, courage, perseverance, etc is as much a desirable attribute in sport as a company has to have to be successful. "Meet the press. At the expo, reserve a small "wired" dais for taping of "meet the press" interviews of the key competitors, sponsors, special promotions, special interest stories, organizers, etc. Air the interviews on TV and report on them in the printed news media.
"Put out a newsletter. All the current happenings, past race reports, profile past winners, special stories of past races, promote sponsors, include race schedule with ETA's, race history, etc. These are only but a few suggestions. I am sure that when more people put their heads together to brainstorm activities that would make for wider promotion; you get a lot more ideas.
SS: You have offered to run a coaching programme here. What are some of the more modern approaches you would like to introduce?
AB: "I have indicated that I would return for an extended stay in Guyana to offer my services as a guest coach for cyclists and multi-sport (triathlon & duathlon) athletes alike. Of course timing is key, as I would have to integrate this offering with my own busy schedule of the services that I provide to my own clients and customers in the two businesses that I own in Canada.
"If the intent is to take advantage of this [offer] in 2010, decisions regarding the precise timing should occur in the next four to six weeks as it is during this period that I finalize my own business plans for the upcoming year. This being the case, my offer is to come for two to three-month stints to offer my coaching services wherever needed. My intent would be to work in close co-operation with the Ministry of Culture and Sport, the national federations for the sports involved and their national coaches to effectively impart technical and theoretical knowledge while sharing relative experiences in heightening the level of cycling and multi-sport in Guyana.
"I have seen the core of the athletes that would achieve a benefit. They are talented and relatively successful, even though most of them are performing on mere talent alone. In other words, they are performing well in spite of a severe lack of any formalized, continuous…progressive coaching plan. It says that we have talent but simultaneously begs questioning just how far these athletes can go, if provided with specific, balanced, diversified and structured training programmes.
"For example, [I understand that] most cyclists just ride miles; essentially, just doing volume. However, my experience, supported by scientific studies and actual results indicate that riding the same miles, at the same speed, on the same roads, with the same people on the same days, week after week, month after month, bring only diminished returns. Sadly, sometimes no returns at all, prompting one to wonder that if the training benefits are minimal or none at all then these cyclists might just as well stay at home and have a good sleep.
"On the other hand, training for progress should be periodized. Meaning that training should be annualized into definite periods of training and focus on specific developmental physical attributes namely cardio endurance, muscular endurance, strength development, strength endurance, speed and power by effectively utilizing the elements of training namely, volume, duration, intensity, frequency, repetition and specificity creatively woven into a structured plan, specifically designed on the individual needs of each athlete. We have the talent. It's a sin that we are not seeing fit to develop this talent to their full potential.
Finally, I would pledge my services at no charge. All I would ask is that travel to and from Canada be reimbursed, comfortable housing be provided along with a daily out-of-pocket stipend and modest transportation, possibly a small, reliable motor-scooter of some kind."
For more information on the services Bryce offers, as well as his latest training tips and techniques, cyclists, coaches and other interested persons are invited to visit his website located at www.endurotraining.com
Around the Web