– Alpha and Camptown in final battle
The Georgetown Football Association (GFA) Guyana Telephone and Telegraph (GT&T) 2009 Cellink Plus Premier League wraps up tonight with what is expected to be a thrilling double header that has the tournament's two top teams battling against each other at the Tucville playfield.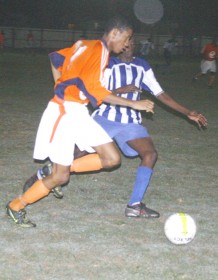 Alpha United who once again have successfully defended their crown will go head to head with yesteryear's runner-up Sunburst Camptown in the feature match of the evening at 8pm and will officially make it four consecutive years at the conclusion.
Alpha are at the top of the table with 34 points, which is unsurpassable by the second place holders, Sunburst Camptown (28p), even if they (SC) record a victory in their final match.
BK International Western Tigers will meet Flamingo FC in the curtain raiser on the final night which begins at 6pm.
Western Tigers were elevated to Premier League status this year along with Flamingo.
However, the Tigers tournament performance gained them a spot to play in the Premier League in 2010 while Flamingo and the Georgetown Football Club (GFC) are the two teams that will be relegated to the First Division League at the conclusion of the tournament.
The penultimate day of the tournament saw the Guyana Defence Force (GDF), Fruta Conquerors, Pele and GFC teams all contesting their final match of the tournament.
Pele ended their run on a winning note after defeating GDF 3 – 0 while Fruta Conquerors fought a hard battle against GFC as they finished tied on three goals each at regulation time.
GDF finished the tournament in third spot as they were last year while Fruta Conquerors occupy the fourth place again and Pele have moved up to fifth. BK International are  sixth while GFC and Flamingo occupy the final two spots.
National senior striker Peter Parks led the way for GFC by scoring a double to keep his team's hope of a victory alive. GFC drew first blood in the 14th minute through a Paul Daniels strike then Jomo Hinds equalized in the 39th minute for Conquerors.
Parks then made his presence felt and regained the lead for his team in the 44th minute which ended the first half with the home side down by one goal.
Parks opened the scoring in the second half with a 71st minute goal that had GFC in a comfortable lead until their defence withered and Lumumba Hinds and Trevon Lycott scored in the 73rd and 84th minutes to make the game equal again six minutes to the final whistle.
Two first half goals from Pele's Marvin Joseph and Solomon Austin and a second half goal from Okene Fraser proved too much for the army team who could not penetrate Pele's defence on Wednesday night.
Joseph scored as early as the eighth, Austin found the back of the net in the 41st and Fraser was successful in the 71st minute.
Around the Web