Young Andre Cummings upstaged a strong field to win the inaugural David de Caires/Ivan Mackie Memorial golf tournament yesterday at the Lusignan Golf Club (LGC) course.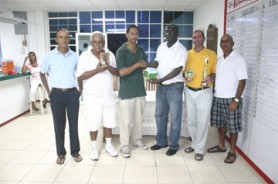 Cummings ended with a net 62 from a gross of 86 and a 24 handicap.
In second place was Dr. Cecil Ramsingh with a net 64 from a gross 83 and a handicap of 19.
Third place went to former Stabroek News' Business and Sub-Editor William Walker.
Walker ended with a net 65 from a gross 83 and a handicap of 18.
In an invited comment Cummings, who indicated that he had not been competing very often, declared: "I'm very elated to have won this tournament."
Walker said he narrowly missed out on winning the tournament but said that he was just happy to participate in a tournament held in De Caires' memory.
Club captain Jerome Khan said the tournament was well attended by not only players but also by caddies who remembered the late De Caires' and his role as a former captain of the club.
"Twenty nine players came out to participate in today's tournament which is an indication of how we feel about David a former Club Captain," Khan said.
"We're trying to support the work he started many years ago and we plan to carry on the tradition of having an annual de Caires/Mackie golf tournament," Khan added.
Stabroek News' Sports Editor Donald Duff, who handed over the prizes to the winners, thanked the Lusignan Golf Club for its fine gesture of sponsoring the tournament.
"I would like to thank the members of the Lusignan Golf Club, every single one of you, for having this tournament in his memory. It tells me that the Lusignan Golf Club has not forgotten the role the late Mr. de Caires played in shaping the golf landscape in Guyana," said Duff.
"It tells me that the Lusignan Golf Club will never let the memory of Mr. De Caires die, that the club will always remember him as one who championed the cause of the free press in Guyana, an action for which media workers like myself will be eternally grateful," Duff added.
Former president of the LGC, Hilbert Shields, spoke of the role de Caires played at the club with support from himself, Clarence Da Silva, Christopher Ram, Lofton Taylor, Dharamdeo Sawh and Syd Cummings.
De caires was however forced to give up the Cub Captain position for as Shields put it …"Doreen (Mrs. De Caires) was back and forth on an airplane as the Stabroek News was in transition and the papers were being printed in Trinidad."
"David was a person who helped the entire country. We, the golf club in particular were fortunate to have him," Shields declared.
Shields said the late De Caires was also very helpful with legal matters pertaining to the club.
"We had no ownership we were virtually squatters," he recalled.
Shields said when Mr. de Caires had his first heart attack his first thought was…"This man can't die because he is the conscience of Guyana."
Also speaking yesterday was Dr. Ramsingh who was present at the club when Ivan Mackie died in 1975 after the vehicle Mackie was travelling in overturned just outside the club as the players were attempting  not to be late.
Mackie died a few days later.
Around the Web