-Carlton Wheelers Annual Cycling Meet
By Tiadi Blair
Yesterday's Carlton Wheelers Cycling Track Meet at the Everest Cricket Club ground saw an unlikely champion.
It was the final race of the day, a 25-lap Open event featuring the likes of Alonzo Greaves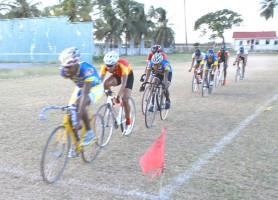 and Enzo Matthews but it was the lesser known Walter Grant Stewart, a cyclist with only one hand, who stole the honours to climax a successful track meet.
Grant-Stewart impressed spectators and outshone the field of able bodied cyclists to win the gruelling 25-lap race which saw Greaves having to drop out after a packed day of events.
Grant-Stewart never boasts about winning races believing that being overconfident can hamper one's success.
Grant-Stewart although tired put his best foot forward to win against some class acts in the field.
"I am humbled by the whole experience. Today has been a day of hard work for all the cyclists but we all deserve to be here because of the love for the sport. But I am truly humbled by the experience and I'm happy to have won the feature race," he told Stabroek Sports afterwards.
Greaves, however, came out on top in the five, 10-lap and Devil Take The Hindmost races.
Christopher Holder and Ian Jackson were second and third respectively in the Devil Take the Hindmost race.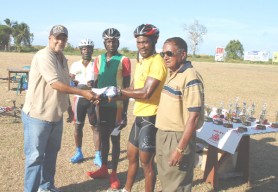 Other races of the day included the under-50 veterans' race which was won by Junior Niles with Ian Jackson and Linden Blackman second and third respectively.
President of the Carlton Wheelers Cycling Club and national cycling coach Hassan Mohamed said he was very grateful to the Everest Cricket Club and its members for allowing the club to use the facility.
He however stressed his disappointment at the lack of media coverage particularly the electronic media.
"I feel we could have had more media coverage from places like NCN because cycling needs that kind of exposure. Aside from that the crowd turnout was very good and I hope to see more of this in the future."
Around the Web