Bishops' High School, spearheaded by their strong team of national swimmers, emerged the champion school in the North Georgetown Inter-Schools swimming championship with a total of 207 points.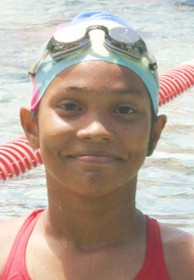 The school also took five of the 12 age-group championship titles.
Bishops' nearest rival, St Margaret's Primary took the second spot with 102 points with Queen's College in third place with 87 points.
The swim meet took place at the Colgrain Swimming Pool on Camp Street last Thursday.
The points standing for the other schools were School of the Nations, 82; Marian Academy, 72; St Stanislaus College, 72; Richard Ishmael, 52; Government Technical Institute, 51; St Rose's High, 40; St John's College, 33; Adult Education Association 30; Guyana Education Trust College, 30; North Georgetown Primary, 30; Christ Church Secondary, 23; The Business school 22; Brickdam Secodnary 11; and Gamaliel Academy, seven points.
Of the 12 age group championship spots Bishops' High took five with Onika George copping the Girls Under 12; Shamal Baksh, Boys Under 12; Britney Van Lange, Girls Under 14; Athena Foo, Girls Under 16; and Noelle Smith, the Girls Open category.
The other age group champions were Girls Under 10 Champion, Sarah King of St Margaret's; Boys Under 14, Shaquille Amin of St John's College; and Boys Under 16, Sheik Amir of School of the Nations.
Kevin De Moura of the Adult Education Association, Jamie Jabar of the Government Technical Institute and Serrano Gonsalves of School of the Nations shared the Boys Open championship.
The swimmers in the age groups below 16 were back stroke and freestyle, while in the open category breast and butterfly strokes were included with the distance being 50 and 100 yards.