Champion athletes around the world often dress the part especially with the endorsements from top designer companies and it will be no different for Guyana's recent world champion Shondell Alfred.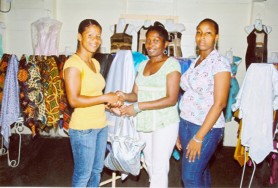 Day's after winning the Women's International Boxing Association (WIBA) bantamweight crown from  Corinne `Sexy Panther' De Groot, Alfred  was presented with fabrics and accessories from Wilo's Bridal and Fabric Boutique on Hadfield Street.
Gileon James of the establishment in a release stated that Alfred should receive all national accolades and recognition due to her especially after she would have gained some international recognition. Further, all local sportswomen were urged to shop at the boutique, which is located west of St. Stanislaus College playground, and be eligible for significant discounts especially for weddings throughout the year.
'Mystery Lady' Alfred  scored a unanimous decision win against Canadian "Sexy Panther" De Groot at the Cliff Anderson Sports Hall last month.
Around the Web