By Tiadi Blair
You've got to hand it to Robin Persaud.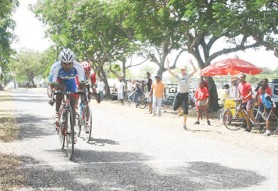 On the first day of scheduled back to back cycling events Persaud brought back memories of the days when he dominated cycling in Guyana with victory in the feature event of the seventh annual Hand-in-Hand cycle race held at the inner circuit of the National Park yesterday.
Persaud, who followed in the lead pack, maintained a healthy position for the first 20 laps 10 of which the leader was defending champion Alonso Greaves.
Greaves eventually dropped out.
"They were expecting me to set the pace from the beginning of the race and that would have put a lot of pressure on me. I felt tired and dropped out of the race," said the Carlton Wheelers Cycle Club rider.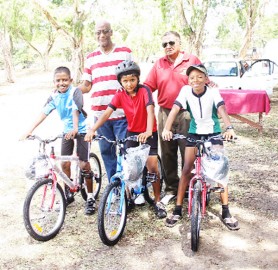 After Greaves dropped out, the two Persauds, Robin and Christopher, took over with Turhan Harris joining the fray.
Robin Persaud was eventually able to prevail over his namesake with Harris claiming third place.
Persaud's winning time was 1:28.36s.
Before the feature event there were 10 other races including Veterans under and over 50, BMX Boys 6-9 and 9-12, Upright and the BMX Open.
During the trophy and cash prize presentation national Coach Hassan Mohammed said this was the seventh successful year of the Hand-in-Hand sponsored event and vowed that as long as he was involved in the sport this particular race would carry on.
Mohamed disclosed that this was the third year that bicycles had been presented to young, promising cyclists.
The selection was based on punctuality, dedication and discipline of the young BMX bikers. After deliberations Nicholas Nandan, Deeraj Garbaran and Christopher Griffith were awarded the prizes.
Around the Web