Avian Rodrigues, Dennis Nelson and Greer Jackson came out on top in the Queen's College (QC) Annual Lower and Upper School Boys and Girls Badminton Singles tourney held on Friday.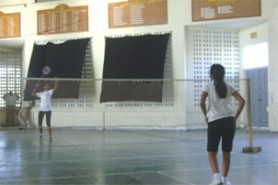 Rodrigues had the upper hand over Nicholas Ali in the Upper School Boys feature final after two rounds of action-packed badminton. Rodrigues took the first game 21-17 and the second 21-19 to win the match. In the same category Easa Sanichara defeated Stephan Greaves to claim the third place spot. In the Lower School Boys tourney Dennis Nelson defeated Christopher Shewjattan.
In the Lower School Girls feature Greer Jackson was impressive in her tackling of opponent Angelica Holder to claim the title. Meanwhile, Tera Jaipaul lost the third place spot to counterpart Sajeedah Khan.
The presentation of prizes for the top three finishers is set for Friday during the school assembly.
The scores for the tournament are as follows
Lower School Boys Singles Finals:
Dennis Nelson defeated Christopher Shewjattan: 21-14, 21-18
Third place went to Troxley Cutting who defeated Alexander Paul: 25-23, 20-23, 22-20
Lower School Girls Singles Finals:
Greer Jackson defeated Angelica Holder: 21-12, 21-12
Third place went to Sajeedah Khan who defeated Tera Jaipaul: 21-16, 22-20
Upper School Boys Singles Finals:
Avian Rodrigues defeated Nicholas Ali: 21-17, 21-19
Third place went to Easa Sanichara who defeated Stephan Greaves: 21-14, 21-15
Around the Web