It was all smiles for the Smiley Faces team of Natalie Cummings and Remy Taitt as they scored an upset 3-1 win over Snipers's Joel Alleyne and Hewley Griffith  on Saturday as the Kenneth De Abreu Table Tennis League got underway at the Malteenoes Sports Club building.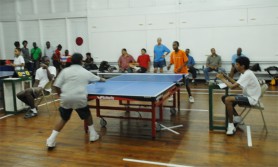 Smiley Faces won the `B' Division tie in the category which includes eight teams contesting a round robin format.
In a `C' Division match Gaza, (Chelsea Edghill, Jamaal Duff and Sunil Logan defeated N & D (Akecia Nedd and Denzel Duff)  3-0.
In Division `E' matches Dragon Warriors (Elishaba Johnson and Alistair Parks) defeated Edgles (Raymond Seebarran, Gerard Budhan and Shannon Ganga) 3-0 while Turbo TT (Brandon Gomes and Sachin Panday) beat Golden Girls ( Olivia Weeks, Anna Joao and Jamaali Homer) 3-0.
In the third match of that division, Top Spin ( Carl Handy and Zane Rogers) defeated KRS (Kyle Edghill, Rajiv Muneshwer and Stefan Corlette) 3-1.
In Division `D' Nigel's Supermarket (Christopher Franklin and Joseph Johnson) defeated NP Electronics (Michael Vieira and Andre Lopes) 3-1 while Western Union (Roger Jackman, Hewley Griffith and Lisa Lewis) beat Bank of Guyana (Imran Khan, Carlyle Bowman and Leonardo Butcher) 3-0.
The tournament will continue on Saturday at the Malteenoes Sports Club starting from 10am.
Around the Web