The Ministry of Culture, Youth and Sport/National Sports Commission (NSC) in collaboration with the Regional Democratic Council of Region Three successfully hosted a Day of Interaction last Sunday at the Goed Fortuin Community Centre ground, West Bank Demerara.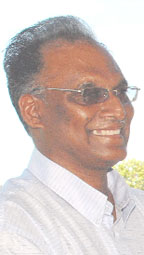 This event was the second in a series of interactive community sports extravaganzas organized by the NSC and it attracted over 1100 participants from West Demerara and East Bank Essequibo with participants coming from villages such as Wales, Goed Fortuin, Parika, Crane, Cornelia Ida and Stewartville.
The activity was part of the NSC's programme to actively engage communities across the country; to highlight the importance of exercise and a healthy lifestyle; to promote a spirit of peace, unity and cooperation among communities and to encourage communities to make use of the many community grounds, playfields and other sports facilities available to them.
On hand for the event were Director of Sports Neil Kumar and Region Three Chairman Julius Faeber along with members of the Region Three Council.
Both Kumar and Faeber in addressing the participants, expressed appreciation for the large turnout which was seen as an indication of the interest of the communities in the development of not only sports but closer community bonds.
The football games contested at the Goed Fortuin playfield saw Goed Fortuin youths  narrowly defeating the Crane 'A' team 3-2 in the final.
In the Open table tennis competition, Kennard Sahadeo  won the trophy while Sahadeo Ramhervatt placed second and Kemraj Thakur claimed third spot .  In the junior category, Shamar Williams  was the winner with Danelle Samaroo, second and Alister Parks third.
The draughts competition was highly competitive and national player S. Jairam tied with Khemraj Pooranlall for the first place while veteran Haroon Bacchus took the third place trophy.
Goed Fortuin won the domino tournament while the Community Policing Group team from West Demerara came in second.
In volleyball,  Goed Fortuin used their home turf advantage to defeat Crane convincingly in the final.
Both male and female cricket matches were keenly contested with 21 teams participating in the softball competition.  In the female final, Meten-Meer-Zorg defeated Ruimzeight by five runs. In overcast conditions Meten-Meet-Zorg took first strike and scoring 38 runs while Ruimzeight only managed 33 runs.
In the male softball match Goed Fortuin Public Road defeated Goed Fortuin Scheme by one run.  Batting first Goed Fortuin Public Road made 42 runs and then dismissed the Scheme for 41 runs.
Around the Web