The TCL Group yesterday finalized an agreement with the West Indies Cricket Board for sponsorship of the West Indies U-19 "World Cup" Team, which would be competing at the upcoming regional one-day  competition in Guyana from October 28 – November 05.
The team will also represent the region at the 2010 ICC World Youth Cup in New Zealand.
The team  was selected in Jamaica at the end of this  year's TCL Group W.I. U-19 Cricket Challenge, a competition that has been sponsored by the TCL Group for the past seven (7) years as part of the company's commitment to the development and promotion of  cricket throughout the Caribbean.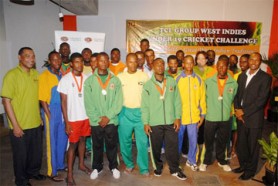 Dr. Ernest Hilaire – C.E.O. of the West Indies Cricket Board, commented on the TCL Group's sponsorship: "We are delighted at the TCL Group's ongoing sponsorship of the Regional U – 19 Cricket Challenge and are even now more pleased that the company has sponsored the West Indies U-19 Team for both the  Regional One Day Tournament and the ICC Youth U -19 Cricket World Cup."
While in Guyana for the much anticipated regional "one day" tournament, the team is expected to visit TCL Guyana Inc (TGI), the TCL Group's first cement terminal, to meet employees as well as tour the facility for a look at the cement bagging process.
West Indies Under-19 Squad
Kejel Tyson – Leewards, Trevon Griffith – Guyana, Evin Lewis – T&T, John Campbell – Jamaica, Kraigg Brathwaite – Barbados, Andre Creary – Jamaica,  Akeem Dewar – Jamaica, Yannic Cariah – T&T, Dalton Polius – Windwards, > Yannick Ottley – T&T, Jermaine Blackwood – Jamaica and  Shane Dowrich – Barbados.
Around the Web