Guyana's world-ranked squash player Nicolette Fernandes has a starring role in the 2010 Women's International Squash Players' Association Calendar, which has just been launched by the player body WISPA.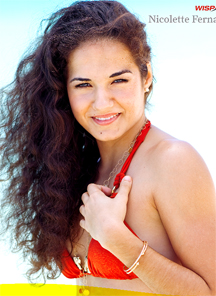 The calendar is the result of an alluring photo shoot set up during the recent Cayman Islands Open and features the top WISPA squash players in designer swimwear.
WISPA players from all over the world are featured in this latest edition, led by Malaysian Nicol David and Natalie Grainger, from the USA – ranked one and two in the world, respectively.
Nicolette, the former world No27 who is returning to top flight action after a two-year layoff following knee surgery, is Miss April.  The 26-year-old also stars on the cover of the calendar.
"I'm not really fashion conscious so when I was asked to be part of the WISPA calendar project, I was sceptical," acknowledged Toronto-born Fernandes. "However, thanks to Patricia and her team, I really enjoyed the photo shoot on the beach in Cayman Islands.
"I feel that this calendar is something which all our players can be proud of.  I know for me it has been a once-in-a-life-time experience!
"It was great fun and an absolute joy to team up with celebrated US photographer Patricia Lyons, who was responsible for the shoot," added the Guyana calendar girl.
All the Calendar Girls thoroughly enjoyed the Cayman hot sun and crystal clear waters, showing that there is more to admire about these top athletes than their on-court skills!
"They certainly converted their professionalism from court to beach with ease and the result is simply stunning!" said Lyons.
Nicolette is one of nearly 300 players, from over 40 countries, who compete on a World Tour that features around 80 events annually.
Around the Web