The travelling extravaganza known as the 20th Kashif and Shanghai Football tournament will head to the ancient county of Berbice today with two hometown teams on show at the Blairmont Community Center Ground.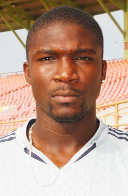 Today's opening fixture is more of a grudge match bringing together East Coast powerhouse Victoria Kings against New Amsterdam United.
In the second fixture, Rosignol United will square off against the impressive looking Riddim Squad F.C.
The last time the Kings and NA United clashed was in this year's Fruta Conquerors-organised, NAMILCO-sponsored knock-out tournament where the Berbicians won by virtue of sudden-death penalty kicks.
"Well we know for a fact that they will be coming hard after that heartache we gave to them. Everyone went back and did their homework after that match so we're ready for the game tonight," said NA United coach Lennox Adams.
NA United happens to be the top club from Berbice having won the Berbice Football Association (BFA) League this year and as such, Adams believes that the support which is expected can be a morale-booster for his troops.
"We expect good support from the people up here and I think it will work well for my players. My players are hyped up but like I said, we know they will be coming hard at us so it's going to be a good game and we are looking forward to it," Adams declared.
The team did take up the offer of four guest players per team.
Adams indicated that he had expected two players from North America but time did not permit the players to be part of his squad.
"We have players such as Adrian Adams who was the top goal scorer in the NAMILCO tournament, we have Leonardo Adams, Colin Bowry, Rondel Hazel, Delroy Ferdinand and some other pretty good players, mostly young but they are gifted and hungry to play," the NA United coach noted.
For the Kings, winning tonight would be nothing but sweet revenge and getting back on the road of victory.
The East Coast team created waves in the local football ocean when they had reached the finals of the tournament against Trinidad's Doc's Khelwalaas in 1998 but lost the game 2-1.
Their persistent rise in the game would pay off in 2001 when they defeated Netrockers 5-4 on penalty kicks in the final for the title. Today, that game remains one of the tournament's most enthralling finals.
Since then, however, the team has been tumbling back down the ladder.  Nevertheless, they are always a force to reckon with. Club President Everal Mundy told Stabroek Sport yesterday that they are hyped and ready for the game tonight.
The team has brought in Tishard Joseph, Kerro and Warren Phillips and national custodian Andrew Durant, all of whom play for Tobago United in the Trinidad and Tobago Pro-League to enhance their chances of reclaiming the tournament's 'Holy Grail'
Around the Web