One of Guyana's most prominent annual dance productions celebrated its "30th Anniver-sary Performance" at the National Cultural Centre last week in commemoration of Indian Arrival Day.  This was Nrityageet 30, directed by Dr Seeta Shah Roath, which marked the remarkable achievement of three decades of unbroken annual appearances of Nrityageet shows sustained and danced by the Nadira and Indranie Shah Dance Troupe.  It is a story of determination and perseverance that has grown into a stage tradition.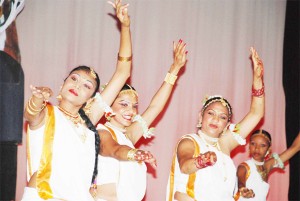 This dance theatre began as a celebration of Indian immigration and has continued on the Arrival Day anniversary ever since, continued by founder members Nadira and Indranie Shah, Bhanmattee Shah and Dr Seeta Shah, with a production team that also includes Suzanne Shah, Rajendra Shah and Rewattie Datt.  They brought together a combination of interest, talent and formal training received from Guyana's National School of Dance, the Indian Cultural Centre and institutions in Barbados, India and Sweden.  Nrityageet 30 was performed under the theme now adopted by the production 'Unity in Diversity Through Dance,' which is now clearly reflected in the range of dance types, styles, traditions and interests that it presents.
The Nadira and Indranie Shah Dance Troupe through its series of productions began as a presenter of Indian dance, engaging in research and explorations into Indian classical and folk traditions, but diversified over the years into a wider range of modern, Caribbean and local forms.  This is reflected in the history as recorded in the 30th Anniversary Programme Notes.
"With Nadira's strength being kathak and an inner devotion to her ancestral roots, she had previously maintained classical and traditional Indian dancing styles for the repertoire of the dance troupe, but was soon inspired by Guyanese cultural diversity and started experimenting with abstract choreography, fusing Indian dance styles with a Guyanese flavour.  Indranie continued on with the traditional form to maintain the traditional dance styles of the troupe, especially after her additional training at the Shriram Bharatiya Kala Kendra in New Delhi."
The notes go on to describe some of the early productions with which the annual series began.  "Bhanmattee (Shah) declared that it had to be staged at the National Cultural Centre because of its technical capability for staging the feature presentation – the Omar Khayyam dance drama… Seeta (Shah) brought her expertise to the production adding Guyana's cultural diversity with her drama, poetry and theatre arts.  Seeta staged the first dance drama at the Cultural Centre depicting the history of Indian immigration to Guyana involving her University of Guyana colleagues, National Dance Company and other individual dancers going on to script and produce several other dance dramas capturing local and global themes."
During its long history Nrityageet has been mainly carried by the work of its leading choreographers Nadira and Indranie, and more recently, Suzanne and Rewattie (sometimes spelt Reywattie) Datt, often with work by Andre Sobryan and Abigail Allen.  But the 2009 show reflected the contributions of many others including Almasi Allen, Dominique Naimatali and the leading national choreographers Vivienne Daniel and Linda Griffith.  The Programme Notes also pay tribute to a number of others.
In performance the productions have been dominated by the founding dancers, the Shah sisters, soon joined by their niece Suzanne, and Reywattie, with Almasi Allen emerging in this year's show.  But there were also others acknowledged in the anniversary programme.  The cast of dancers in Nrityageet 30 is led by "senior dancers" Allen, Niamatali, and Nikita Doodnauth, as well as others Reya Gokul, Preya Gokul, Syada Andaye Jacobs and Amanda De Freitas.  Other members of the troupe are named as Senior Dancers Nadia Ramsaroop, Omar Sattaur, Rebeena Leesam, Vanessa Persaud, Ayodele Collins, Trisha Calveira, Rene Calveira and Davina Tiwari as well as "Christine, Lisa, Feresa and Kamini."
The theme of  'Unity in Diversity through Dance' was very well reflected in the dances presented, with kathak still being a favourite form, but with several other varieties treated.  Continuing on that theme, too, were the features danced by the many guest performers on the programme which made a noted effort to reflect the multi-ethnic, multi-cultural complexion of the Guyanese Arrival Day that it celebrated in 2009, in addition to the variety of interests that has shaped Nrityageet.  The programme began by reflecting this in the three invocations with which it opened to give religious inspiration to the several different dances that followed.
In addition to the Nadira and Indranie Shah Troupe, there were contributions from members of the National Dance Company, National Dance School, a number of individual dancers and some secondary schools.  These were the School of the Nations, the New Campbellville Secondary, East Ruimveldt Secondary and St John's College.
The most impressive sequence was the 'Trials of Today' which was a suite of three pieces on that theme with the sinister looking 'Evils of Society' with appropriately horrific costumed figures.  On either side of that dark episode were two somewhat brighter responses to the presence of social evils: the encouragement of prevailing 'Hope not Despair' on one side and the antidote of 'Universal Love' on the other.  They were interesting choreographies and well executed.
There was an outstanding performance by Suzanne Shah Nilsson and Kijana Lewis in 'Universal Love' by Vivienne Daniel.  They are counted among the most accomplished dancers on the local stage today and showed effective coordination here.  'Evils of Society' by Jonathan and Group also impressed, with good visual effect and mood, but it was just a bit limited by being designed to be all on the floor.  The other piece, Shah Nilsson's 'Hope and Despair,' maintained the high standard achieved in the suite.  She was also responsible for some of the other best pieces such as the kathak duet 'A Tarana' with Rewattie Datt.  Datt has grown in authority and prominence in these shows, developing quite a reputation with kathak.
The Programme Notes translates the word nrityageet as "pure song and dance" and lists some of the dance dramas produced in the past.  The repertoire of the troupe is given as including kathak, Bharatanatyam, Odissi, folk, modern, chutney, soca, jazz, ballroom and "ethnic dance styles."  These were all on show in the varied programme of Nrityageet 30.
Around the Web