There have been some complaints about the very popular Radika Invasion, the latest in a long line of productions in Guyana featuring chutney-soca performers from Trinidad. These productions represent important developments in the nature of chutney, cultural change and the influence of the ephemeral but significantly powerful force that is the popular culture.
The Radika Invasion was an excellent illustration of these factors.  It was a stage show that took its title from one of the most popular current chutney (or chutney-soca) recordings from Trinidadian chutney king Kenneth Salick. The production rode on the immense popularity of this hit song and had as its performers a number of the reigning exponents of contemporary chutney-soca.  As is customary, they toured Guyana with a very representative sample of what takes place in this area of entertainment in today's Caribbean.
What some find objectionable, however, are some of the common factors of shows of this type and the way they reflect the popular sub-culture, a prevailing class question, several controversial issues regarding reggae, dance-hall, soca and now chutney, as well as changes that have taken place in musical and cultural traditions in the Caribbean, and the chutney tradition itself. The Radika Invasion was typical, and an accurate demonstration of this type of event.
Although the very limited critical accounts and documentation seem to credit Trinidad with the chutney tradition, Guyana has as much claim to it, and chutney in both countries has a common root.  Trinidadian chutney and its latest development the chutney-soca, now have great ascendancy because of the large, lucrative and growing recording and entertainment industry in that country.  Guyana, whose recording industry is under-developed, has now become a great consumer of Trinidadian chutney, but has produced a good deal of chutney of its own, and one is able to trace the tradition in both Guyana and Trinidad from roots in Indian indenture.
This root is the Bhoj Puri language and culture of the Uttar Pradesh and Bihar regions in India, which came over with the indentured labourers.  The language is a dialect of the Bihari group of Indo-European languages and is said to have some 40 million speakers.  The cultural strength of this tradition is still evident in India where there are performing groups with national status and sponsorship who often travel to perform overseas and further export the performance forms.  Bhoj Puri performance is known for its reflection of folk culture and traditions, rituals, wedding rites, love, relations between husband and wife, love and devotion, and even issues of gender, women's voices and more outspoken women's songs.
The continuation of surviving strains of this culture was the beginning of what developed into the chutney tradition in this part of the world. Songs eventually emerged in the Guyanese Creole of the Indians in the estate villages replacing those sung in Bhoj Puri and accompanied by distinctive drum rhythms.  The songs and the performance forms continued to reflect the culture which took on local influences from the experience of the people in the Guyana of colonialism and plantation culture. There are examples of these in such songs as Ow Maninja (manager) and one of the great compositions Dis Time Na Lang Time usually associated with a dance that goes with its performance by villagers.  The song is a comment on changing times and social conditions expressed in the language and consciousness of the people with a touch of humour about the development of technology.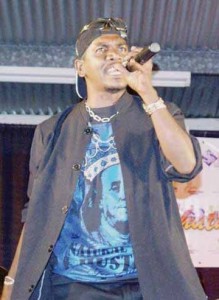 Another excellent example of this brand of chutney is a song used on radio for some time in Guyana to advertise curry and baking powder.  The language, music, rhythms and the life-styles they reflect are authentic.  In one of the ads the husband asks his wife, "Gyal tell me whey yu cook na?" and the reply is mutton curry with the Indi brand and "dhol puri with champion bakin powda."  The wife in another sequel takes advantage of her husband's de-light at the food to ask for a new dress.  His not unexpected response is "Tek money, buy two."
In yet another extension of this commercial, local folklore is strong in a story of Ol Higue plaguing a family.  It turns out that the affliction was really the poor quality of Bibi's cooking, but she then discovers Indi curry and Champion baking powder which made the food "eat nice" and "beat out de ol higue."
Developments in this tradition led to cross influences in the music with the growing intrusion of other rhythms, the popularity of soca and the instrumentation of the recording studios.  Great exponents of chutney such as Sundar Popo, Sonny Man, Drupattee and the Indians Kanchan and Babla strongly reflect these influences in the style of chutney that became popular.   The performances of the Trinidadian Shiv Shakti Dance Group demonstrates both the older folk tradition and newer soca-style more modern forms.
Among the leading exponents today are the popular performers of what is sometimes called chutney-soca (or soca-chutney) to acknowledge the way the music has changed.  The more rural traditional musical form has joined with the soca and carnival with electronic instrumentation and some mix to the rhythms, adding to the calypso type drum rhythms that had already intruded.  But there are yet further influences, particularly in the stage performance, which have come from the dancehall.
Seating has not been a part of these outdoor shows for more than 20 years.  With the very powerful reign of the popular culture these performances are now much more about the electricity and the dynamics between audience and performers with the latter endeavouring to remove all barriers.  There have been objections to the 'wining-up' on stage, but that has now become an element in the performance arena where the personal prowess of both performer and audience and friendly rivalry are part of the sexual as well as the personality politics in dancehall, calypso, soca, and now chutney.
Some singers do not sing a selection right through.  That, as well, is an indication of the change in popular stage performance and the focus on whipping up audience excitement, energy and participation.  This is the factor in dancehall known as "wheel an come again." The performer deliberately introduces false starts, sudden checks and re-starts in the performance and this has become another element of audience performer-audience energy.
There is another tradition that goes deep.  Kenneth Salick makes a great popular success with the chutney song Radika.  "Radika why yu leave an go" is followed by a female response "I had a right to leave an go" (because of ill-treatment and neglect).  But there are different versions of this.  The first Radika reply sung by Rawytee Ramroop will inspire others and it is not unusual to have new versions in a performance.
An interesting fractor in the Radika replies is that of gender.  Response to the songs of one singer by another has long been a popular tradition in calypso and reggae.  Significantly, the gender factor is there in the dancehall as it is in Radika's reply and as it has been in the original Bhoj Puri folk performance tradition.
Many elements of the powerful popular culture have been controversial, especially the sexuality.  Added to this has been the kind of rum culture prevalent in chutney.  A very telling image used in a Kenneth Salick video is a man by himself at a table pouring over a glass and a rum bottle.  In the Bhoj Puri tradition gender issues and love relationships, devotion and marriage are treated.  In contemporary chutney these continue in the prevalent male personae driven to drink by a failed love affair or marriage.  "Ah want me rum in de morning/Ah want me rum in de evening/Yu could bring it in a bottle/yu could bring it in a glass" is a common philosophy of the male chutney singer reflecting a social condition common in the popular culture.
One of the most excellent examples of this is the 2002 success by Adesh Samaroo; "Rum till I die, rum till I die/She tell me she don't love me and that's the reason why."  It continues in More Rum for Me or Listen Mr Chanka" (2004-05) by Neeshan Prabhoo popularly known as The Hitman.
There is an ongoing debate about "vulgarity" in the music of popular culture that has heated up in Jamaica, Barbados and Trinidad.  A large part of it has to do with notions of what is considered vulgar and this is to a great extent a class issue.  So many elements of working class culture have been deemed vulgar by colonials in history and by the middle class in contemporary society.  Sexuality by its very existence and visibility is a good example.
Now, while all agree that substance abuse is to be discouraged at all costs, the rum culture prevalent in chutney is part of a serious examination of our culture and our social issues, but this is not always acknowledged by the critics of popular music.  Several of these issues have been raised here as well, although the questions are there to be carefully studied and answered.  But first they need to be meaningfully understood.
Around the Web