We have on previous occasions commented upon the nature of national traditional festivals in the Caribbean and the way they respond to the cultural environments in which they exist. Some of them evolved as creations out of these same cultural landscapes and were shaped by factors of social history, while others were manufactured in more recent times as monuments or celebrations of important national political events. Others have their origins in religion or exist as full-scale religious festivals with characteristics that make them important and impactful at a national level.

Some of these festivals in the Caribbean exist in other countries or were brought into the region from elsewhere but they have become national events because they are part of the culture in the Caribbean societies. They have been celebrated here long enough to have attained the status of traditions. They may be called national not only because of their recognition (many of them are national holidays) but because of their impact and integration. These are seen in the way they influence and are also influenced by local culture.
This is the case with the large traditional religious festivals such as Christmas and Diwali. Both of these have impressed themselves upon the popular culture and have very wide outreach which attracts the attention and participation of the national population. This participation is not religious and does not go so far as to take part in the sacred rituals and religious beliefs of the real devotees. But the religious celebrations include very large public exhibitions which attract the interest and attention of the public. In case of Diwali this is done through the festival of lights which is extremely spectacular. It is a sacred Hindu ritual but it expresses itself in grand public exhibitions.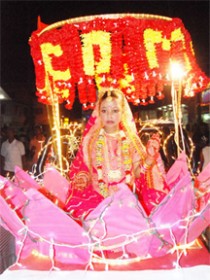 Last week we focused the public, popular (even secular) outreach of Diwali and the way it has been affected by cultural change. This cultural change has involved the popular culture and has given rise to street revelry on the outer fringes of the festival, some of which has been infiltrated by unwanted developments. However, an important point of interest is this very factor of cultural dynamic; the way Diwali has influenced cultural change and the way cultural change has taken place even within the manner in which Hindus practice the festival.
The point has been made that the festival has deep significance for Hindus who observe it in many ways including prayers, pujas and other rituals. But these rituals carry over into public exhibitions which use symbol, dramatization and images to broadcast messages from the heart of the religion, which are expressions of what they believe. Hindu mythology and scenes out of the Ramayan are parts of this. Our focus here is only on this public outreach and what can be observed in these practices and definitely not with Hinduism itself or its holy pujas.
There are several elements that make very interesting study in cultural differences and change. Take differences between Diwali in Trinidad and in Guyana, for instance. The same festival came over from India and developed in similar ways in the two societies. It seems, however, that the involvement of the popular culture and the fringe participation of as well as the impact on the wider population is greater in Guyana. The rise of the street revelry is not such a feature in Trinidad. Yet the public exhibitions of tableaux depicting Hindu deity are larger and more intricately designed and built. This may well be a factor of Trinidad's superior craft in costume making and the continued experience of Ram-lila for which costumes and images are made just a month before Diwali.
Yet this element has gained some ground in Guyana. While the motorcade in Georgetown used to be dominated by lights, more floats today depict tableaux with large spectacular intricately crafted images of Laxmi, Krishna and other deities like those in Trinidad. This is another element of change in Guyana.
Still in the area of craft and its tradition, an outstanding feature in Trinidad is the use of bamboo. Bamboo is much more widely used in that country as part of the tableaux and to enhance the display of lights. There is an art in the splitting and bending of bamboo to form magnificent arches on which diyas are placed or lights strung. This is rarely seen in Georgetown except outside the residence of Pandit Reepu Daman Persaud where on occasions, the whole road is decorated. Yet this rarity is observed in Georgetown, not so much on the Essequibo Coast where the use of bamboo is common. Informants in Essequibo say that bamboo is a vestige of the past in Guyana which, unlike Georgetown, they still use.
If they are correct, bamboo is only one of a number of old characteristics affected by change and which stand as differences between Georgetown and the Essequibo Coast. The most visible and outstanding change is in the use of electricity. Strings of electric bulbs (what Guyanese call fairy lights) now dominate and seem to be replacing rows of diyas as sources of lights in Diwali. Ironically, very often the same set of lights strung up for the Hindu festival are simply turned off, left in place right where they are, to be turned on again at Christmas. It is a feature of change, of cultural diffusion or even acculturation.
It is also another element of regional difference since the old earthen diyas have survived better in Essequibo. The electric lights have emerged there too, but a few other features are noteworthy. The use of humans in the motorcade has been consistent in Essequibo. They wear costumes and are made up to become Ganesh or Hanuman, and they sing to accompany the floats. The use of live singers and musicians is prevalent in rural Diwail.
These 'human' elements are now frequent in the capital city motorcade where they are mixed with the electric lights and images. But this is a resurgent feature of fairly recent development, while it seems to be another factor of old festivals which never waned in the country villages. Added to this is the use of horse-drawn vehicles which persists in the rural motorcades. More than that is the common sight of floats drawn by cattle, oxen or buffaloes appearing like a time warp from nearly a century ago.
Around the Web