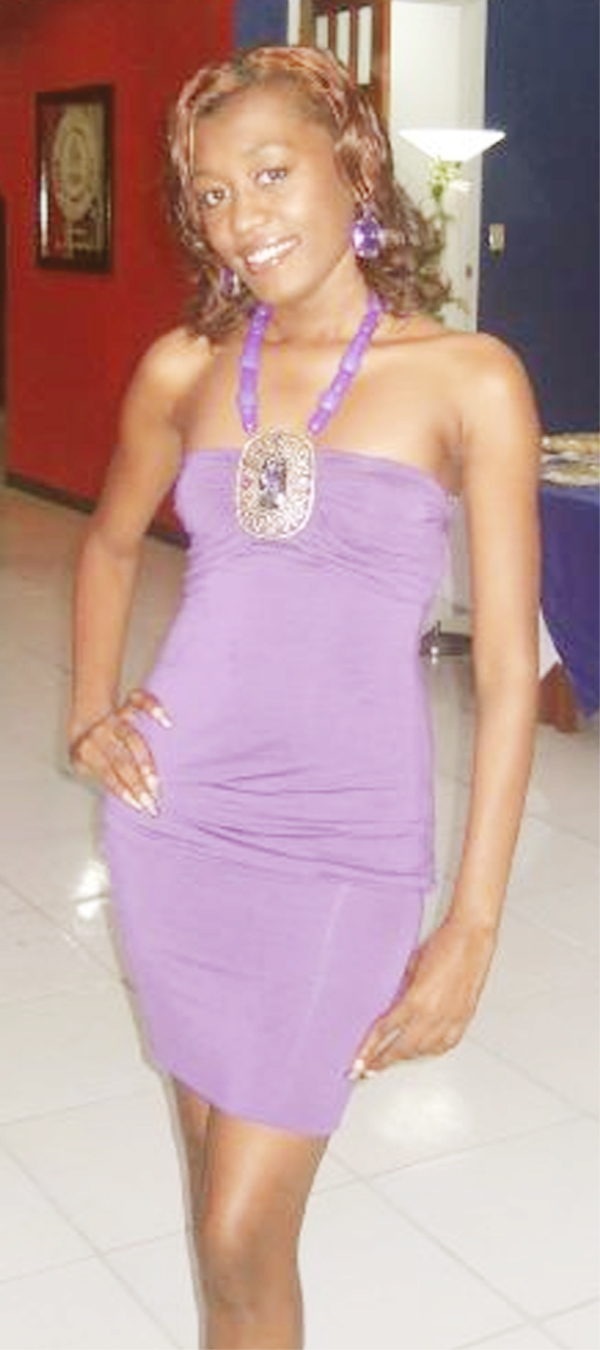 Shonnet Moore has come a long way from the bright-eyed schoolgirl who was crowned Miss Guyana Talented Teen at age 18.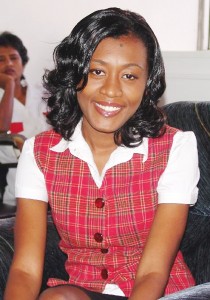 Today the 22-year-old local beauty has made her mark in the local media and public relation circles.
Shonnet's successful move from schoolgirl to Public Relations Executive at Tagman Public Relations Co could be attributed to the fact that she describes herself as a "go getter".
In a recent sit down with The Scene she recalled that she was just finishing sixth form studies at Queen's College when she decided to enter the Miss Guyana Talented Teen pageant. It was not a decision she made off the cuff, she said, as she knew that should she win the crown she would also win some public attention however brief it was.
"I also wanted to do something new and exciting before venturing into the world of work or attending the University of Guyana (UG)," Shonnet told The Scene. She also wanted a stage to perform the dramatic piece she had written for her communication studies in Sixth Form, "Proud Guyanese Woman."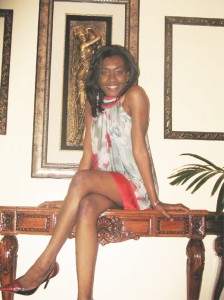 She is indeed a proud Guyanese woman, who was not only surprised but also elated when she was approached shortly after being crowned Miss Guyana Talented Teen to become a reporter on one of the leading television newscasts, Capitol News. She was still 18 at the time and saw that as a major feat and attributed it to the fact that she had always liked public speaking and writing.
Capitol News
It was only after Shonnet became a reporter that she realised the important role the media play in society. She said while she was at school she loved reporting but never saw it as such a serious job. It was during her stint at Capitol News that Shonette understood that the media are actually the watchdogs of society and the amount of trust people place in what is said and written. "It was then I realised that you have to take the work more seriously because what you say, is what people believe and you must strive to present it in a manner that is not biased," she said.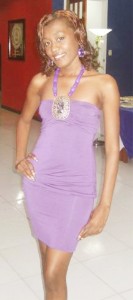 Her days at Capitol were some of her more challenging but rewarding ones. She recalled that she was working then for one of the best in the media fraternity, Enrico Woolford, whose high expectations she always had to try to live up to. But she said that under his exacting scrutiny she performed better and became more disciplined, which was more than rewarding.
Shonnet left Capitol after a few years, taking up what she thought at the time was a great offer at News 2. But she did not factor in the huge responsibility she had to shoulder in her new position and the fact that she was forced to work with very limited resources. "But I coped," she said until she got another offer, this time with Tagman, and she took it.
However, before she left Capitol News she had entered the Miss Jamzone Pageant and she not only won a crown but a brand new car. Shonnet was not shy to say that she entered the pageant for the car. In fact she described herself as a very "calculating" person and before taking the decision to enter, examined the fact that she wanted to attend UG while still working and that she would have been in dire need of her own transportation. "It was a situation where I entered to win and I just had to win, there was no other option. I was confident of winning even though a few days before the pageant I became a little nervous…"
Don't look forward to seeing her face in another pageant anytime soon as she told The Scene the "ends must always justify the means"; she is not going to enter a pageant just to win a crown she must have another goal in sight.
Shonnet disagrees with those who say local pageants are a waste of time. She believes it is up to the individual who should have a reason other than the crown for entering. And while she does not hold herself up as a perfect example of how a young woman can benefit from pageants she does see herself as an example.
Niche
At Tagman, Shonnet handles the Digicel account and she says she loves what she does. In fact she said she feels that she has found her niche in public relations. "I like it, it is like the other side of the coin [of the media]," she said.
And Shonnet is still is the broadcast business as host of her own show, 'The Shonnet Moore Show', which is aired twice a week on Channel 72, Sundays at 6:30pm and Thursdays at 8 pm, where she examines issues that affect women. These issues range from domestic violence, breast cancer, single parenting and HIV and AIDS. "I still speak out on a number of critical issues through my show," she says. Her show is also seen on the Caribbean Media Corporation (CMC) network.
Shonnet says she knows a lot of people see persons like her as egotistical and sometimes even dumb. But she just does not let it get her down. This beauty sees herself as a go getter, as we mentioned before, as she knows what she wants but always tries to have some fun while getting it.
She is now in her second year of studies in International Relations at UG and one day she hopes to work in the area of foreign affairs. She has every intention of graduating with a distinction from the university and spends all of her spare time reading and studying.
Shonnet is currently engaged to Simeon Francis whom she said she will one day definitely marry.
Around the Web