There's a kind of hush that makes you feel you should be whispering. Except that it is not really that quiet at Pandama. Perhaps stillness is a better word, because all around you can hear birdsong. And now and then there are sounds that you think you might recognise, but really cannot identify for sure; you would have to be really au fait with local fauna to do that.

Some six kilometres up the Linden-Soesdyke Highway and along a now well-beaten path, there is a sign that says 'Pandama Retreat'. And that is exactly what Warren and Tracy Douglas have done; retreated from the rat race that life in the US had become. Pandama is their home and refuge and because they know how important it is to have a place to retreat to, where, as Tracy says, "you can just be", it is open to anyone seeking such, with just a few conditions.
The Douglases have had this vision for the property since they first laid eyes on it.
At first, their dream was just to have a home in Guyana. Tracy, a New York-born professional artist, said that with this in mind, they rang up a real estate agent while on a visit here, but were told that he was not working because it was a national holiday. Still, she insisted on telling him what their requirements were. "We wanted a property where we could drive into [where the house was]; a place for us to live, with trees," Tracy said in a recent interview with The Scene.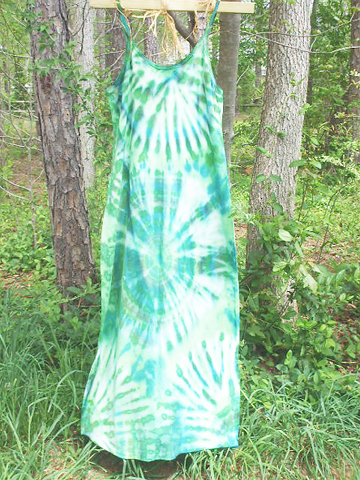 "However, the more I opened myself to the idea, I knew I wanted a place where people could just breathe, where people could relax; a place that everybody could use."
Soon after they purchased the 17-acre plot, just over a year and a half ago, friends and family members started visiting and they would just talk, she said, noting that they seemed to feel safe there.
Apart from being a total artist — creating with her hands, voice and body, doing painting, batik, tie-dyeing, soft sculpture, dance and theatre – Tracy is also a Reiki Master, Soft Touch Massage Therapist and Ordained Minister. Her Guyana-born husband, Warren, is a former builder/contractor and EPA-certified HVAC (Heating, Ventilation & Air-Conditioning) and Preventative Maintenance Technician. He is also a Reiki Master and Ordained Minister.  They have two children, Charles "Chaz" Edward Douglas and Tielle Ariane Douglas, who are still both in college in the US, and three Labrador Retrievers, Rosebud, Basil and Sage, who have accompanied them here.


Pandama?
The real estate agent had first shown the Douglases a one-acre plot with a house which Tracy described as perfect. However, they found that the surroundings were not in harmony with their dream as the closest neighbour was loud and aggressive. When it seemed nothing else suitable was available, they put their names on a list at the Lands and Survey Commission. The next day, however, the agent called to say he had found a place but the owner wanted to meet them to decide if they had the "right vibe".
"We did not really have to think about it," Warren said. "We saw it and we looked at each other and we knew."
"Everything was so overgrown," Tracy added. "They said there was a creek, but we could barely get to it. There was a rundown building with no roof, which looked like it was 200 years old."
The couple noticed the dominant growth of a peculiar shrub-like palm, but did not know what it was called. So they plucked a leaf and took it to a horticulturalist in Georgetown. They were told it was called Pandama; hence the name of their retreat. The palm is likely the pandanus baptistii (scientific name), also called the umbrella tree or the screw pine in other parts of the world and is almost certainly a species of the Pandanaceae family. It proliferates at Pandama Retreat and some of the shrubs are about 7 ft tall.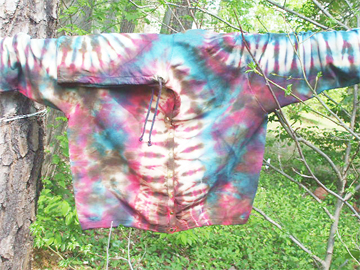 Tracy said that after they purchased the property, Warren stayed here for about a year, getting the place together, while she flew back and forth.
Zack
When the Douglases returned to their home in North Carolina, after whipping the retreat into shape, they left 'Zack' to take care of the property. Tracy described Zack as a special worker, whose "every finger is a green thumb". He has planted several dwarf coconut trees, fruit trees, bull nose and wiri peppers (which were reaped and sold wholesale to vendors), pumpkins and thyme among other things.
Tracey said Zack, a Trinidadian, was looking for a place where he could be respected and works his magic with plants unsupervised at Pandama.
With Tracy as the catalyst, the Douglases have now permanently 'remigrated', arriving here just last week. Warren said he had a timetable for remigrating which would have seen them leaving in another few years. But Tracy had other plans. "I did not know how ready I was to come home," he said. "[Returning now] was not my idea it was her idea. I had a timetable. She was not hearing the timetable." He has no regrets.
The Douglases counted themselves blessed as they had endless support from friends and family, in their move. Tracy recalled that on the night they left people stayed right through until their truck pulled off some time around midnight. "It's the way we plant our seed," she commented. "If we're about community then the community supports us."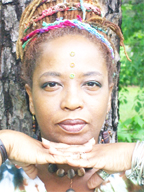 Open doors
Pandama has already had guests, but the Douglases have since worked out a site plan which determines what will be available to the general public, since the retreat is also their home. (Would-be guests can visit the retreat's website at www.pandamaretreat.com)
Warren said his wife's studio is one of the first major projects he will complete. Not that Tracy is waiting for it to be done to get creative. That is something she does every day.
Warren is also involved in solar energy and wind technology. He told The Scene that he is passionate about sustainable living, the environment and making his own wines. In fact, his wine-making equipment is already on its way here.
The builder/contractor also plans to construct a gallery, where Tracy's art will be displayed and several secluded cabins that will afford their guests privacy. Pandama has its own water supply from a natural spring and this is pumped up to the living area. The retreat will utilize solar energy with a generator as back up.
Smiling, Tracy reminded that the retreat is low maintenance. It offers good food, relaxation, a place to talk and solitude for those who desire it. However, if you want your bed turned down at night and all of the comforts of a five-star resort, then Pandama is probably not the place for you. On the plus side, the retreat's doors are open to all comers, regardless of your lifestyle. There will be no judging and no ostracizing anyone. As with Vegas, what happens in Pandama stays there.
Since the Douglases are both ministers, they will, once they secure the necessary permits, offer wedding packages at Pandama. They also do counselling, therefore, ideally, the wedding packages will include not just the ceremony, but sessions with whomever they are performing the ceremony for "to ensure they are really ready for their union". They will also offer commitment ceremonies and family weekends. Other plans include a global summer camp that would target children from around the world, children of Guyanese immigrants in the US and local children, and men's retreats. They said there would also be activities targeting women, but they have noted that men have very few such outlets here. They envision having Sunday sessions maybe once or twice a month where men would be allowed to commune with each other and open up "without alcohol and without judgement".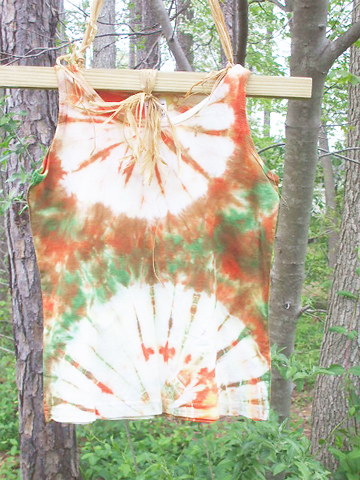 Antoinette
Tracy, who has been doing African dance for years, will also undertake a special project at Pandama, for which she plans to seek funding; a global gathering of women master djembe drummers. The djembe, a traditional West African goblet-shaped hand drum, was historically forbidden to women. Only within recent years have women been allowed to play the instrument and become master drummers.
Her clothing line, Artwear by Antoinette (Antoinette is her middle name), offers "wearable art". This includes batik, tie-dye and hand-painted, tops, dresses, t-shirts and even hoodies.
"As an artist it's been an evolution," she said. "Art and healing flow together; I spent a lot of time focusing on my craft and I realise that it has helped me overcome challenges and obstacles and brought me good times. Whatever I do seems to help people."
Art is her life's work, but Tracy said, "the work has never been about me, it seems to help people on their healing path."
She recalled a woman with cancer who had scars that she had always refused to bare, finally doing so in a Tracy dress.
"Any creative being, you have to know that it's a blessing from God; God will always allow you to prosper. We can't get stuck in fear.  "So whenever I am creating, whether it's on a wall, on a t-shirt, in the kitchen, using my voice, using my body with dance, it's been a blessing to be able to live it all out."
(thescene@stabroeknews.com)
Around the Web