She's a woman with a passion to help in the fight against child molestation and has combined her talent for writing and singing to push her cause.
Pearl Lewis whose singing name is 'Precious Pearl' came in into singing quite by accident.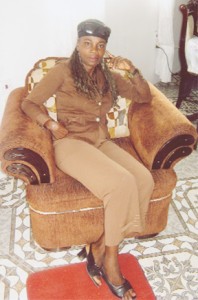 If you are a follower of the Mashramani competitions you would remember her name from last year's calypso competition which was the first year she entered. She had written the song "Help oh Lord" and had a designated singer to do it for the competition. However, at the last minute unforeseen circumstances catapulted Precious Pearl herself to the stage. She was eliminated in the semi-finals but was elated that the song was chosen in the first place.
She has qualified for the competition again, this time with the song "I Gon Tell." The song is about a child who speaks out against molesters telling them that "I gon tell somebody if you mess with my innocence."
Pearl told The Scene that this song represents her strong emotions against child molestation and she believes this song will help to reduce the high incidence of it in our society encouraging young children to be influenced and speak out. To this effect she is seeking sponsorship to record her song.
She has written and recorded one song before, which is played on the local airwaves every now and again. "Heights of Mountains" recorded in September 2007 is a song of her personal testimony. It tells of her anger that things were not going well with what she wanted to do and talks of the faith and hope she had to exercise before she got a breakthrough.
However, despite her involvement in singing Pearl's first love—writing–always holds a place close to her heart. Pearl hopes that one day her dream of publishing children's books will be realized. Several of her short stories and poems have been published and have placed on several occasions in the Guyana Annual.
She has several manuscripts of children's stories which she showed to The Scene and believes that the cartoon stories can be of educative value to children. If only she could see them on the shelf of a book store.
Pearl first started writing back in 1995 at a time when she was going through a rough patch in life. As she put it, "poems just started flowing out of my head and I would put them down on paper."
She is eager that one day the art of animation will be alive in Guyana as this is another area she is really gifted in, judging from the many characters she has already produced in her manuscripts.
In the meantime this 52-year-old will not sit down and await opportunities but is up and around doing the things she loves. Apart from her calypso she has written two new songs and is hoping to get sponsorship to record them soon. The songs pay tribute to steel pan music and more so to Roy Geddes's contribution to the art.
So watch out for her on Mashramani stage this year.
Around the Web