The Link Show turns 25 years old this year and for its silver anniversary, it will link with Cellink for special performances around the Mashramani season.
The Cellink – Link Show opens on February 19, at the National Cultural Centre with a gala performance and continues until February 24. However, there will be no show on February 23, Mashramani Day.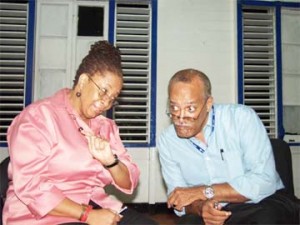 According to a press release, the Theatre Company has brought on board, its co-founder Gem Madhoo-Nascimento of GEMS Theatre Production to team up and present this special silver anniversary production.
Madhoo-Nascimento, the executive producer of Link Show 25, was last involved in Link Show 20, in February 2001, which enjoyed 16 performances at the National Cultural Centre.  With her experience in producing, she is hoping for a repeat of that.
Ron Robinson is the executive director of the production and he is being assisted by is Tivia Collins who was a trainee director for the Carifesta Theatre Workshop. Nasim Hussein, Howard Lorrimer and other veterans of the Link Shows will be displaying their talent this field, the release said.
Several trainees from the Carifesta Theatre Workshop are being given an opportunity to work in this significant production. Production managers Christopher Jacques and Celicia Pariaug were students of Madhoo-Nascimento's Production Management class. Persons in costumes, hair and makeup and set will also be drawn from the classes held between June and August, 2008.
The cast and production team of Link Show 25 consist of many old timers and a few who were in the first Link Show. Margaret Lawrence and Howard Lorrimer appeared in first Link Show and will be in Link Show 25.
According to the release, other actors in the current cast and who were in previous Link Shows of the 80s and 90s are Nasim Hussein, Godfrey Naughton, Rajan Tiwari, Sherry Ann Dyal. More recent additions have been Lavonne George, Sheldon Braithwaite, Michael Ignatius, Sonia Yarde, Leslyn Lashley and Nicky Moonsammy. Newcomers to this production are Lyndon 'Jumbie ' Jones, Kirk Jardine, Simone Dowding, Ajay Baksh, Troy Parboo and Simone Persaud. Trainees from Carifesta workshop are Kijana Lewis, Collins and Tishandra Inniss
A number of young trainee students are involved in the production to allow them to further enhance their dramatic skills. Some, on realizing their potential, are being given fairly substantial roles that will really surprise the audience.  These are Andrew Liverpool, Theresa Tyson, Abigail Brewer, Christine Jeremiah, Tonaisea Robertson, Tiffany Gray, Kwesi Edmondson and Clement Standard.
Classique dancers will be executing satirical dances in the production.
Each night there will be 25 meaningful giveaways to mark the silver anniversary.
Listeners can also win free tickets to the show by listening to any GT&T sponsored programme and answering the question asked.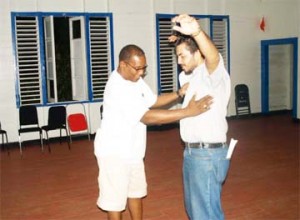 On February 22, there will be two shows, a matinee at 16.00hrs and the evening performance at 20.00hrs.
The gala performance on February 19 will be preceded by a cocktail from 19:30-20:00hrs and tickets are $2,500 each. Seating is limited to the Recital Hall. Prices for the other performances are, Auditorium Front $1,200; Auditorium Rear $1,000 and Balcony $500.  Tickets for the matinee will be $800 for seats anywhere.
Around the Web