Hi Everyone,
I come before you with my head bowed for I have flirted, cheated and obsessed about things other than my self-confessed true love: curry. My head is bowed but I am not sure of how ashamed I am. Does that make me a bad person? Do I need therapy?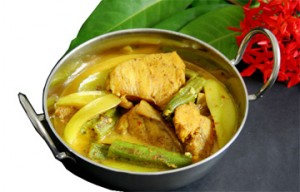 I confessed to you in 2007 that curry, fish curry to be exact was my one true love when it comes to food. However, since that confession I have not been faithful. In the interest of full disclosure, I thought that I would fess up to my indiscretions. I want to come clean especially on this world day of love, St. Valentine's Day.
It started with a little eggplant flirting. If you've been reading this column regularly, you'll know that there is only one style of preparation in which I eat eggplant, that is, fire roasted and made into a choka or cooked as a dry curry with potatoes and some tamarind for a bit of tang.
However, for the past year in particular, I have flirted by thinly slicing the eggplant and sautéing it with tomatoes, onions, fresh herbs and sliced potatoes all of this in the hope of developing a taste for the vegetable that I can use in other dishes. Though the flirting was fun for a while, in the end I realised that I just wasn't into eggplant in that way.
I had quite a fling with roast breadfruit though, and it will forever have a special place in my heart. For two straight weeks and more, this is all I wanted to eat. Though I did not have the skills to create my own outdoor fire, I did not let it stop me from mimicking the same action in my oven. The result did not disappoint, and it is heart warming to know that whenever I want to have roast breadfruit, I can, right in the comfort of my own home!
Another one of my tasty peccadilloes was of all things soup! If you cast your mind back to November you would remember that I said that I was not a lover of soup and that when I ate it, it had to be the thick kind with lots of ground provisions, the type we make here in the Caribbean. But I have to confess that even when I was making the statement in November I had already fallen in love and begun a torridly tasty affair with Vietnamese beef noodle soup – Pho Bo.
In October and again in December I was travelling to the United States. Far from home and unable to get curried fish easily… well… You've heard of the hundred-mile rule right? (If you haven't, ask your friends) I was crazy for the Pho, happily humming over each bowl I consumed.
I've long had an obsession with calamari (squid) and I don't know if I even want to get over it. Give it to me any which way – stuffed, fried, baked, grilled, braised and oh yes, in a ceviche after it's just been caught.  The problem with this obsession is that squid is so darn expensive here in Barbados and in my recent travels in seeking out seafood restaurants that offer calamari, I have been sorely disappointed as they've all, all of them overcooked it hence plates of rubber bands! I am in desperate need of a calamari fix.
Some on-going romances are with dirty rice, Chinese longevity noodles, sambals, yellow fried chicken and various spice mixes.
Now that I have bared my soul, as I reflect on what I have just written, as I cast my mind back to my infidelities, I am aware of two things – I noticed that there is no mention of dhal and yet it has been my go-to dish often, particularly when I need comforting. Is that the "outside" relationship I am having? The other thing that I have become aware of is that for all the talk, tastes, obsessions, flings, flirt and affairs, a hot fish curry still stands tall and has a permanent, prominent place in my heart. I know, I know, that is like saying, "I love you, the others don't mean anything to me. It's you that I come home to." I never said that I was perfect.
Have a loving and happy Valentine's Day everyone. Hold your loved ones close and share some of your culinary guilty pleasures with them.
Around the Web