When Shellon 'Shelly G' Garraway won this year's Carib Soca Monarch, she capped off an acclaimed comeback and put any doubt about her claims to the crown to rest.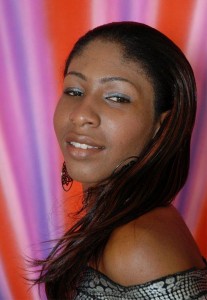 Shelly G, who became the first woman to win the coveted title, returned to music after a year-long layoff, during which she became a new mother while working to refine her sound. She credits the birth of her five-month-old daughter with helping her to get serious about work, adding that when she returned to the soca competition it was with the sole intention of winning it. On the road back, she has also received a lot of support from her manager Ian Johnson, DJs like Rawle and Kerwin who helped popularise her song and fans that she never knew she had.
However, on stage, it was up to her alone. And it was as if Shelly G had never left, as she put on one of her trademark performances, having earned for herself a reputation for being what you might call provocative, racy or just plain slack. But according to her, what she does on stage has nothing to do with her personal life. "It's an act," she says, making a distinction between the self-described country girl seated before me and the temptress who regularly gets pulses pounding when she appears on stage. "I always wanted to be an entertainer."
Indeed, in a relatively short period Shelly G has carved her own niche in the local entertainment scene, where her raunchy lyrics and her steamy music videos are her signature. One need only look at a few of her song titles to get a sense of her body of work, including the breakout  hit "Touch Me," and recent singles "Bruk Me Up," "Bad Gals" and the collaboration with Fojo, "Swing it." Her winning entry, "Work It" is no exception, with constant references to "daggerin," which she innocently maintains is wining despite what the Jamaican broadcast authorities have to say about the subject. "It's about having fun down the road on Mash day," she insists, "Nobody owns any word."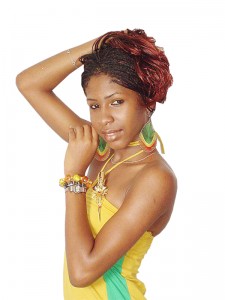 It's hardly the kind of debate one expects to be having with a girl who started singing as chorus leader in Sunday school. She says her mother was an early influence, as she sang in the church. "In church, she used to be so brave, getting up, rallying, crusading… entertaining people, I always wanted to be like her." As she got older, her influences grew to include Mariah Carey, Destra Garcia, Allison Hinds, Lady Saw and Beenie Man, representing the different musical genres like R&B, soca, ragga and dancehall, which Shelly G has been experimenting with. They are also provocative musicians in their own right, who have found a lot of commercial success with sexed-up acts that are an easier sell for record company executives than you would think.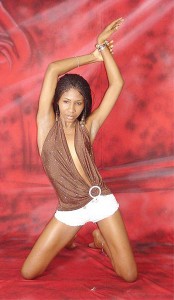 For her part, Shelly G sincerely says she is in love with making love (her words, not mine). "It's a part of me," she explains, though adding that she has a large catalogue of songs that are not about sex. "That's not the only thing I can sing."
At the moment, she is aware that some people are concerned about her music and how children might receive it. She, however, emphasises that when she writes songs, she doesn't write with children in mind as her core audience. "'Cause I am a grown woman, and I write for big people," she adds, "I figure it's older people who are listening to my songs but somehow or the other children just grab hold of it."
"Work It," mainly written by Ian 'Fojo' Corbin and produced by Osley 'Spider' Hopkinson, can be called vintage Shelly G. But it was not even intended to be submitted for the competition, according to her. "We were just doing a soca song," she explains, "[But] after it was finished, we were so much in love with it, we decided to put it up."


The song, however, also marks a departure of sorts for the singer as she took a deliberate decision to reign in the raucous sound that typified her earlier work. She used the break from performing to work on her music and her voice. One of the constant criticisms she faced in the past was about her high-pitched singing. "So, I've been working to come down," she notes, "It's been hard because my comfortable zone is up there."
Since winning the competition, Shelly G has barely had time to sleep and her workload doesn't look to be getting any lighter any time soon. She will be part of the Hits and Jams Mash band this year, while on Mashramani night she is also billed to perform at the T-Pain concert at the GCC. She is also working on a new album to be released this year and along with her manager, she is planning a country-wide tour, which will include a stop at Essequibo, where the country girl's story began. "I've been everywhere except for Essequibo," she admits. "They always calling and saying when you coming"
Correction: In our Tuesday edition report on Garraway's win, it was mentioned that she had once quit mid-performance during a previous appearance in the competition. She explained that she had experienced a wardrobe-malfunction and only briefly left the stage during an interlude to fix it. We regret the error.
Around the Web