From guns crimes to sexual and domestic violence, crime is a scourge in the Caribbean region, and beginning next month Trinidadian promoter, Andre Rochford will start an ambitious campaign to promote peace through music and "hopefully effect change".
He calls it 'Peace Fest', a concert spanning seven Caribbean territories grappling with crime and featuring one of reggae's most current and leading voices on the issue of change, Jah Cure. Guyana has been selected as the country to kick off the peace campaign on April 4.
Why Guyana? Rochford told The Scene earlier this week that Guyana seemed as good a place to start as any, but he decided on here as a sort of tribute to the victims of the two massacres that gripped this country a year ago.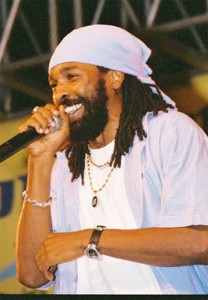 "I remember those incidents and they were troubling, but I am not saying that Trinidad is not facing the same kind of issues because crime is a major issue on the island. Trinidad is second to Jamaica with respect to crime in the region," Rochford stated.
He said Guyana has had to recover from two shocking massacres and referred to Lusignan and Bartica. He recalled a third but was not familiar with all the details. Rochford said that his campaign was not intended to create immediate change, but is rather aimed at raising awareness on the issue of crime and getting people talking about the problem.
Rochford declared that crime affects everyone even if not personally, and everyone is therefore a stakeholder. He said the idea to hold the concerts came a short while ago and he pursued it aggressively without considering that major sponsorship would have to be secured to pull it off. Somehow, sponsorship though important was not going to be a deterrent.
Rochford said he got in touch with Hits and Jams promotional team here and had many fruitful discussions. The local team, he said, immediately supported the campaign and said it would get on board to spread the word in Guyana.
Crime has hit close to home for the Trinidadian promoter. He told The Scene that while there had been no personal experiences except for a few robberies, he has lost friends to gun violence and petty crimes. He stressed that the idea to promote peace is therefore critical.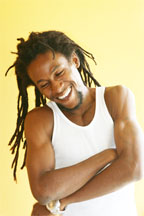 Peace, he said, is a word that is casually thrown around. However, he said, it is a powerful word and it is possible in the region if everyone gets on board. When asked about pulling in support at other levels of society including government, he said, that there is time to get everyone on board.
While he was a bit apprehensive in terms of how much support he can garner outside the local entertainment community, Rochford was aware that Guyana's administration had recently cracked down on the kind of entertainment that is coming to these shores.
Ban
Jamaican reggae singer, Rodney 'Bounty Killer' Price was banned from entering Guyana again and his protégé David Brooks called 'Movado' had been  blacklisted owing to security concerns in April last year following a concert here featuring Price that had turned ugly.
Home Affairs Minister Clement Rohee had announced then that his ministry had exercised a lot of patience with entertainment organisers over the types of show they hold here. He said that prior to that the relevant authorities had sat down with some of the organisers to draft a set of conditions by which shows would be guided. Unfortunately, he said, these conditions had not been upheld and as such, his ministry was blacklisting Price from entering Guyana.
"Bounty Killer will not enter this jurisdiction [nor will] Movado," Rohee had said.
Bounty Killer had sparked a lot of controversy following a performance at the National Park where despite pleas from his manager and officials of Wildfire Productions, which promoted the show, he belted out anti-gay lyrics and promoted the use of guns.
Asked why Movado was being banned, Rohee said he was a security risk. He did not go into details. Movado was scheduled to headline a weekend show in Linden
featuring dancehall queen Lady Saw.
Wear White
Rochford said that he wants people to understand why he is holding the concerts, stressing that it is a bid to show solidarity towards the soaring crime rates and social issues affecting the Caribbean. He added that a new wave of violence is posing severe threats to the region.
He said that the public is being urged to wear white and unite in the fight against crime. He added that the artistes coming to Guyana to spread the message of peace will also talk about crime and how it has affected them.
Jah Cure, the headliner for the concert, has been a steady voice in reggae and is now among its leading voices. Jamaican Spragga Benz, who has been a fixture on the dancehall/reggae circuit for more than a decade, will join Jah Cure. They are expected to perform alongside local artistes at the concert.
Rochford said that SSAGS Entertainment is the organization responsible for the seven-show campaign, but has contracted his promotional team, Easy Events Unlimited to coordinate the concerts.
A press release from the promoter said that Jah Cure's hit, "Reflections", has become a song for the region, echoed by people all over the Jamaican and beyond, and also played repeatedly on international radio stations.  His first album 'Free Jah Cure The Album the Truth', was released in 2000, it was followed by 'Ghetto Life' in 2003 and 'Freedom Blues' in 2005. Other hits such as "Love Is" and "Longing For", showcase his unique voice and lyrical ability.
In 2008, Jah Cure released "Hot Long Time" featuring Junior Reid. 'Universal Cure', Jah Cure's new album, was to be released on November 25, 2008, but has now been postponed to be released later this year.
Spragga Benz, the singer and actor, has a catalogue of songs, among them several hits. He has also collaborated with artists such as KRS-One, Wyclef Jean, Charles & Eddie, and Nadine Sutherland.  Spragga Benz has extensively toured the Caribbean, North America, Europe, and Asia. Still ascending to even greater heights, Spragga Benz dropped the lethal 'Fully Loaded' (VP Records) album in 2000. The vicious track listing included "She Nuh Ready Yet(Hype Up)", "Wi Nuh Like", "Some Bwoy", "Weh Ya Say Star", "Push It Up" & "Sleep With Angels".
The singer moved to more mainstream avenues in entertainment, hitting the big screen, appearing as himself in the Off Line Entertainment film Brooklyn Babylon, starring Tariq "Black Thought" Trotter (The Roots), and Bonz Malone. He followed up his debut by stepping it up to playing a lead role in  the popular Jamaican film Shottas, which also stars Kymani Marley, Paul Campbell (Dancehall Queen), and Wyclef Jean (Artist/Producer).
Around the Web