It was 1955 when a then struggling Guyanese promoter met a young Trinidadian by the name of Francisco Slinger and on a whim decided to include him in his group that was about to tour the interior.
That whim proved to be very profitable for the Guyanese as we all know that Slinger, better known as the Mighty Sparrow eventually became one of the best known names in the calypso world.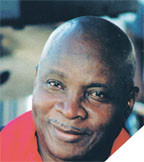 That Guyanese was Cyril Shaw who later became Sparrow's manager and went on many tours with him around the world.
Today Shaw, who is 87, finds if difficult to remember those days as his memory is failing him but his wife Bhanmattie Shaw, who went on some of the tours, recently told The Scene "those days were fantastic days."
Bhanmattie said her husband would from time to time indicate to her that he would love to be interviewed but because of his failing memory it is not possible. She still wanted his wish to become a reality so she chatted with The Scene recently, though even she cannot remember it all, as her memory is also not as good as before.
Sitting among the many costumes she was preparing for the upcoming Nrityageet show, billed for May 5 and 6 at the National Cultural Centre, Bhanmattie attempted to chronicle her husband's journey with the mighty calypsonian.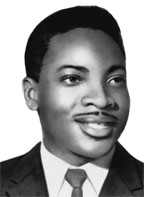 She disclosed that it was only a few years ago that her husband stopped being Sparrow's manager since he no longer kept things up to date and had a difficulty "counting money". She feels that his failing memory has to do with a fall he had 20 years ago when he toppled over a veranda while at Sparrow's house in Trinidad and failed to seek medical attention. Two years after the fall a blot clot developed in his head and he underwent an emergency operation.
"But I know he is old now too, so maybe that contributes to his memory going… he remembers sometimes," Bhanmattie said of her husband who at the time of the interview was spending time with relatives in Essequibo where he was born.
Brash lanky young man
Shaw, who wrote an article chronicling Sparrow's journey from 1955 to 1985, describes Sparrow as a "brash lanky young man in his late teens" — 19 to be exact – who was brought to Guyana (then British Guiana) by a Trinidad band leader/promoter with an entertainment after Carnival Troupe in 1955.
According to Shaw, Sparrow was left in Guyana with a few other performers and was taken to him to be included in his group to tour the interior areas of Guyana.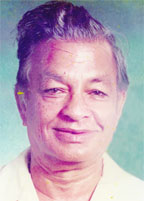 "After the usual preliminary discussions regarding poor travel conditions and accommodation in the Guyana interior which was then called the 'Forest Areas of Guyana' I added him to the group," Shaw wrote.
He said they toured "every nook and cranny in the country areas." And while the conditions were hard which saw both him and Sparrow becoming ill, it was Sparrow who was hailed as the star of the tour with his "High Cost of Living" among other hit songs of the day.
The bigheartedness of the man coupled with his shrewd business acumen was evident even at that tender stage of his life career as he lifted the morale of the other performers with his "don't quit" attitude, Shaw wrote of Sparrow.
Shaw noted that Sparrow was unconsciously forming a team of associates to advance the art form and also beginning to show the qualities necessary for a successful future in the fickle world of show business.
"In spite of all hardships and difficult travelling conditions in the bush areas of Guyana with snakes racing the Ballyhoos [wooden boats] in which we had to travel to get to the various villages, Sparrow kept the morale of the troupe high, high, high. I recall him singing 'Growling Tigers' [and] 'Train Song' much to the amusement of the members…." Shaw wrote. He said it was Sparrow's singing after shows in the nights that helped them to pass the night away while they slept on the hard benches waiting for the same boat transportation to the next village.
Because Sparrow was so good, Shaw said, he contracted him to return to Guyana the following year after the 1956 carnival. "I recall telling him go win the 1956 Calypso crown and come back while things will be better."
Sparrow did more than that as he not only won the calypso crown but also the road march with his popular "Jean and Dinah".
Print newspaper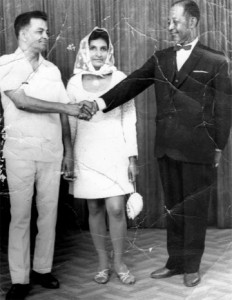 Backing tracking a few years, Bhanmattie told The Scene that before becoming a full fledged promoter and later Sparrow's manager, her husband owned a printing press and printed newspapers for both former presidents Cheddi Jagan and Forbes Burnham. The printing press was called the Arcade Printery and she said it was shortly after the split between Jagan and Burnham that her husband was forced to close down the press.
In fact, according to her, he was hauled down to the police station many times as he attempted to keep the press open and it was only because he went to school with the then Chief of Police, Sir David Rose that he stayed out of jail.
Bhanmattie recalled that two police officers were always found standing in front of the printery in the days leading up to its closure and they would even check the food she took for her husband.
But they never knew she hid the copy of The Thunder newspaper in her bosom and rode on her bicycle to former president Janet Jagan for her to proof the copy. "They never knew that," she said with a laugh.
Shortly after, according to Bhanmattie her husband was forced to live outside Guyana and she remained here with their children. It was only when the brought the now dead South African singer Miriam Makeba and her band came to Guyana that he was once again allowed to return without fear of being prosecuted.
Shaw finally built a successful business in Trinidad which saw him promoting concerts, sports and doing artiste management, hence him becoming Sparrow's manager.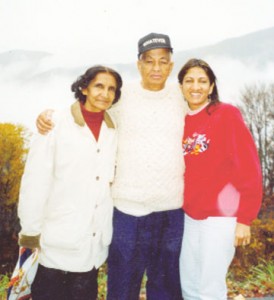 As a matter of fact the Shaws later bought a house in Trinidad right next to Sparrow's even though the singer is now based in New York and the Shaws' house is now rented out.
Bhanmattie is of the opinion that her husband made "Sparrow what he is today. "We use to travel to all the islands with Sparrow and if you use to see how the girls use to flock him, …those days were fantastic," Bhanmattie said with a far away smile.
The couple has eight children: Seeta, Cheddie, Kamala, Nadira, Indranie, Davika, Rajendra and Mahendra who are all married and 14 grandchildren along with one great grandson.
Bhanmattie finds it ironic that she once loved the Swedish boxer, Ingmar, so much that she gave his name to one of her sons as his second name and today she has two Swedish son-in-laws, one Swedish daughter-in-law and one Swedish grandson-in-law.
And while she has travelled the world extensively and spent many years in Trinidad Bhanmattie said she has never left Guyana permanently as she loves her country. Her children are all now living abroad.
"You see as old as Cyril is, none of the girls married anyone as handsome as he is, you know," Bhanmattie said, her facial expression suggesting that she had gone back to the days when they were young. She recalled that they had eloped to Barbados to tie the knot "because you know how confusing weddings can be sometimes so we got away and got married."
For now the Shaws will continue their life in Guyana living quietly and looking forward to visits by their children and grandchildren. (samantha_alleyne2000@yahoo.com)
Around the Web