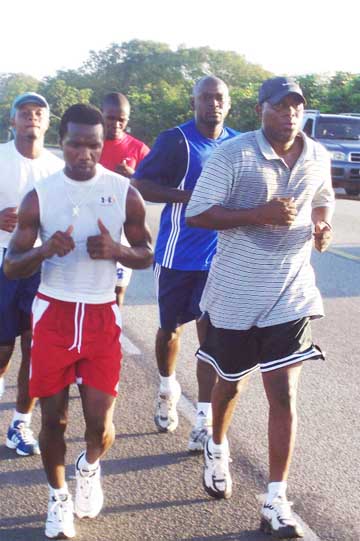 Selflessness, conviction and the strong desire to contribute toward youth development, led Lindener and national footballer Kayode McKinnon, to display considerable sacrifice and mental endurance to complete a 13 hours and 20 minutes run in support of youth affected by and infected with HIV.
Under the theme 'Running for Life', McKinnon, on behalf of his year-old charity Kayo's Football Academy, did the run for Hands of Love a not-for-profit group that offers support to children struggling to cope with HIV.
It was in late December, after McKinnon returned to Guyana during the off-season (he plays professional football for Trinidad & Tobago club, Tobago United) that he thought of giving to a charitable organisation in Linden,
The 29-nine-year-old bachelor decided that Valentine's Day, would be the day he would use love, strength and endurance to make a difference for an entire community. "I would consider myself somebody willing to serve for the good of others," Kayode said.
Hands of Love, which is located at Red Wood Crescent, Mackenzie and directed by Pastor Leroy James, feeds, clothes, educates and provides shelter for children who are infected with or affected by HIV. Guardians of the children also receive some support since many grandparents are left with the children, after the death of their parents in some cases.
"It is much more important to give," Kayode says, noting that this was the whole reason behind the event. It is this philosophy of giving that led him to use Kayo's Academy, which operates under the motto: 'I am a very important person. In me there is success I must respect others' to teach the more than 80 registered children the importance of giving.
He emphasized that he uses the academy "as a vehicle to promote giving and having compassion for others." Kayode also credits his parents – dad, Andy who is a pastor and mother Gloria – with imbuing in him the value of giving and sharing, noting that as a child his parents would often open their home to others. The midfielder acknowledged that he was blessed as a young man to have parents who always promoted giving and the "importance of having compassion for other people."
When Kayode spoke to The Scene last week, he was "still recuperating". Because he's a national footballer, one might tend to feel that it would be a cake walk for Kayode to switch to marathon runner for the over 40-mile run, from the Soesdyke-Linden Highway junction, to the Georgetown/Linden bus park at Mackenzie. But close to a month after the run, Kayode was still going through a phase where he remembers the cramps he suffered on the road, to the extent that he would begin getting cramps.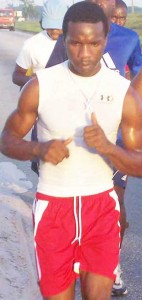 Kayode aka 'Magic Man' knew that preparation of his body to confront the gruelling run was important and sought medical advice since December. He also changed his diet to include more fruits, carbohydrates and protein, to help with his blood transfer as well as incorporated the appropriate training like climbing hills.
Yet he said, "I underestimated the run," speaking about the level of preparation he had to undergo. The "mental preparation," he said, "was the toughest part."  It was pointed out that during a 90-minute football game there are breaks and the objective of scoring a goal, but he had to prepare his mind for the first time running such a long distance – not for a specific time, but toward an end. He revealed that during the run his mind began "playing games" and feelings that there was "no end in sight" kept creeping into his thoughts as he faced the long winding highway.
"I never knew the highway like I know it now," he said, adding that he counted eight hills, eight bridges and one culvert. The run took a toll on his legs and at one point the footballer says the cramps were so much that his hands were not moving and his entire body was shutting down, forcing him to take a medical break on the advice of his medical team – since he was told his heart could shut down. This happened just before the Moblissa bridge. After an oral rehydration solution treatment the cramps were still there and flu-like and fever symptoms began to surface. His mental response to what his body was feeling was, "the ending is there…just get past the journey."
Running with Kayode and giving their support were Topp XX defensive player Javin Crawford and midfielder Jamine Wilson (both began and ended the race with McKinnon). Both Crawford and Wilson also had to seek medical attention during the run. Parliamentary Secretary in the Ministry of Culture, Youth and Sport and former sports journalist Steve Ninvalle also began the run with Kayode, but did not end it, along with a coach from the ministry.
Many other persons joined the run at various points to give support.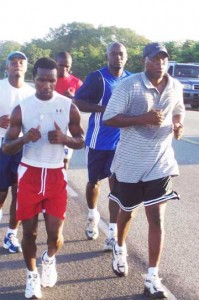 "I had to keep reminding my self what it is I am doing this for," Kayode said, adding that if he was thinking about himself he might have stopped running, but when he thought of the children he was running in support of, he pushed on.
So will this be an annual run? "It's the vision for now," Kayode said, "the here and now, probably next time it will be something else." He added, "you want to do stuff that will bring about change."
His advice to others thinking of what they can do to promote change is to, "seek the wisdom of God", for a direction in what to do. And he also pointed out that nothing good comes easy and "people may try to kill your dream." Over 50 letters seeking support from Linden businesses were sent out, but the support was little or none. Letters were also sent to businesses in Georgetown and according to Kayode, "I think Georgetown ran with this event more than people in Linden."
The letters contained relevant information to contact Hands of Love to give in kind or other donations. Kayode said he was pleased with the support from Georgetown businesses and from media houses like Channel 9 and NCN Channel 11 and Linden base ACVS that created and aired advertisements free of charge.
Kayode will be making available pamphlets on the experience during his run to persons who are interested.
Around the Web