After a five-night run to rave reviews and a two-night hold over, Link Show 25 goes to Linden this weekend and then will have its final performances from Saturday March 21 to Tuesday March 24 at the National Cultural Centre (NCC) at 8 pm.
According to a press release from GEMS Theatre Productions, the show will open in Linden today with two performances at 5 pm and 8.30 pm and tomorrow at 5 pm. All shows will be held at the newly refurbished Lichas Hall. Tickets for the Linden show are on sale at LEAP Office, Lifetime Gift Shop, Blacka Barber Shop, Celebrity Avenue and James & Sons.
The show, a production of the Theatre Company and GEMS Theatre Productions has received tremendous support from the public with tickets being sold out on all of the nights it was held.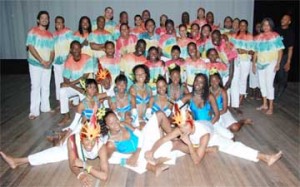 Link Show 25 is directed by Ron Robinson and produced by Gem Madhoo-Nascimento. Tickets for the last shows at the NCC are $1200, $1000 and $500 and went on sale at the NCC from yesterday.
According to the producer, this will be the final opportunity to see the show.
Around the Web