Through dance and drama, the story of a devoted husband who fights a "colossal war" to liberate his kidnapped wife who is totally devoted to him, will be told on the stage of the National Cultural Centre come April 11 in a production called Ramlila.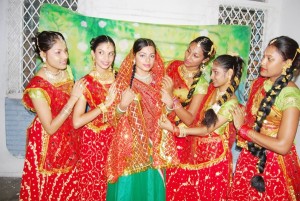 A production of the Guyana Hindu Dharmic Sabha, Ramlila has a cast of some 50 dancing and dramatising the story of Lord Rama which is believed to have been started by the great saint Tulsiodas.
The dancers will move to live music; their steps choreographed by Dr Vindha Vasini Persaud whose annual 'Naya Zamana' production is always a treat. She has researched and viewed similar productions in India, Thailand and Trinidad and has incorporated facets of those productions into Ramlila along with her own creativity.
The Sabha is promising rich performance crafts that would include costumes and jewellery, masks, headgear, weaponry, make-up and set decoration.
"The production will see various incidents from Ram's life enacted by artistes, complete with their dazzling outfits, heavy jewellery and accessories in front of breathtaking backdrops," it promised in a release.
This is not the first production of Ramlila in Guyana as it was actually brought here by the East Indians during the indentureship period but in those days the performances involved an all-male cast who both sang and acted.
The Sabha now presents a "fresh approach" to a tradition it says has faded with time. And even though the approach would be fresh it would still keep elements of the old while introducing new components.  Music for the production will be done in large part by some of Guyana's top Hindi artistes such as Sookrane Boodhoo, Rekha, Suchitra Rampersaud, Gaitrie Samlall, Krishna Mandata, Pt Jagmohan Persaud and Dharmendra Ram. The dances will be done by the Dharmic Nritya Sangh.
The story of Rama is said to be deeply influential and popular all over the world as he is revered for his unending compassion, courage and devotion to religious values and duty.
Rama was born to Kaushalya and Dasharatha, King of Ayodhya and as the eldest son he was referred to within Hinduism as Marayada Purushottama which means Perfect Man.
According to the story, for the sake of his father's honour, Rama abandons his claim to Kosala's throne to serve an exile of 14 years in the forest. His wife, Sita and brother, Lakshmana, joined him in exile. Sita is subsequently kidnapped by Ravana, the Rakshasa monarch of Lanka. It was after a long and "arduous search that tests his personal strength and virtue", the Sabha says, Rama fights a colossal war against Ravana's armies. He eventually slays Ravana and liberates his wife who had absolute devotion to her husband's love and remained faithful despite being held captive.
Having completed his exile, Rama returned to be crowned King in Ayodhya and eventually became Emperor of the world after which he reigned for 11,000 years "an era of perfect happiness, peace, prosperity and justice known as Rama Rajya."
The Sabha said Ramlila captures all the important elements of the Ramayan from the events leading to Rama's birth all the way to his crowning and while the production will be entertaining it would also be inspirational.
Tickets, which will cost $1200 and $1,000, can be picked up at the NCC, Dharmic Sanskritik Kendra in Prashad Nagar, Bhagwan's on Water Street, Anjees in the City Mall and Sheriff Street, Jairam's Little India Store on America Street at the Murti Shop, West Coast Demerara. The production is sponsored in part by the Guyana Bank for Trade and Industry and is being held at a time that coincides with Ramanavami, the birth anniversary of Lord Rama on April 3.
Around the Web