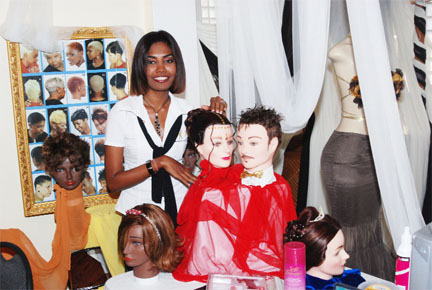 How does an eco-friendly wedding sound in these challenging financial times? Think about it, a shoe-string budget, value for the environment and not much fuss.
The only thing that is going to cost you is the green Sonia Noel designer wedding gown, the fresh flowers and the organic food spread; otherwise it is pretty much a simple, uncomplicated walk to the altar.
The idea of 'going green' is as hot a wedding idea as any these days, just ask local designer Sonia Noel, who is incorporating the concept into her work this year. Sonia's gowns were among the few on display at the just concluded Wedding Expo. And if green is not your colour she has others.

Sonia's two-piece wedding gown was unquestionably stunning; a rare blend of evergreen and gray with tinges of yellow in the skirt and a bikini-inspired mid-riff top in rich gold. But you would need the bravery and the body to pull it off.
As it turns out Sonia is big on what she describes as "unique weddings". The weddings that stray from traditional white gowns and black ties and focus more on personal style are the weddings she loves working on.
From revealing tie-dye gowns to more simple cotton styles that reflect individuality, Sonia has done a string of the non-traditional dresses and has received wide exposure in return. Her gowns have featured in wedding catalogues in the region and in regional magazines.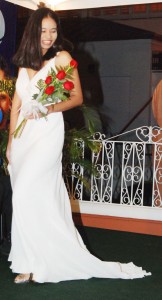 Sonia told The Scene that while many Guyanese women still cling to the traditional white gowns many women in other Caribbean countries are calling her up and asking for simpler gowns; gowns that are beautiful; reflect a personal style and are more affordable.
The requests for "something different" have become routine, so much so that Sonia rarely does anything in keeping with tradition. The green gown on display at the Wedding Expo is testimony to this. She said that any woman who is confident in her skin and feels empowered enough to wear a skirt and mid-riff top on her wedding day, and who loves the colour green would certainly list it among her options.
Besides the gown and paying for the organic menu at the wedding, things are pretty smooth sailing from there.
Only one wedding planner at the Wedding Expo was interested in the 'going green' concept and she advised that it can save money.
How so? Well, for instance you do not send out invitations in order to save on paper and that can save you between $20,000 and $50,000; you send out mass emails that will cost absolutely nothing. She rightly stated that nearly everyone is connected on the web today.
Instead of having the wedding reception at night, a day reception is required so as to conserve on the electricity. The natural daylight will do just fine for pictures, dancing, singing, eating and whatever else you have in mind.
Considering how late some receptions go, sometimes past midnight, a daylight reception does sound good. The planner also mentioned that it is difficult to get guests to leave the hall at nights.
She even noted that the quiet sound of the outdoors is enough music to the ears and that there is no need to hire a DJ. For the couple's first dance, simply throw in a CD, and if the guests feel like dancing simply let the disc play.
The bride has the option of spending little or nothing on her hair because she is expected to go as natural as possible, but she is allowed to spend on skincare and makeup. She is allowed to go without shoes as is the groom and the wedding party can as well.
The green wedding would still require the couple to pay for the rings, which you never compromise on; drinks; photography and catering. But, that it is.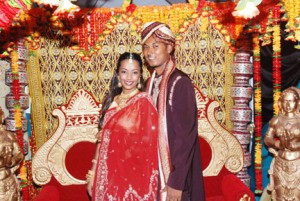 Going traditional
But if the concept does not fit you, stick to what you know. And if anything is true, it is that fact that the Wedding Expo was fixed around the traditional idea.
Go crazy over the centrepieces; interior décor where it applies; the choice of wedding song; picking the wedding party attire; the cakes; and yes, the gown.
But be forewarned, a decent wedding is not possible if the budget is not over quarter of a million dollars, and that is considered a shoe-string budget by any measure.
Two cakes alone can cost as much as $100,000 and that is being modest based on the cakes and price tags at the wedding expo. So if the budget is $350,000 then one cake is going to have to do. The cheapest cake was $40,000; this includes ingredients and workmanship.
Cake decorator, Karen seemed willing to work around her prices if needs be, but her cakes were so beautiful that the prices attached seemed only fair. Her samples were enough to convince you too.
But while the cakes were on display, wedding dresses were not. There was no way you could actually see a gown if the nightly fashion show was yet to start or had ended before you arrived.
A wedding expo but no visible wedding gowns, not good. The women walking into the expo who were planning their weddings wanted to see the gowns, and even try them on. Why not?
They could have browsed the catalogues though the prices were all quoted in US dollars. A reasonably-priced gown (not the most attractive) could set you back, which means that the gown alone can set you back US$600 ($120,000). Somehow that does not seem possible on a budget of $350,000.
Wedding halls were the tricky bit, because the prices varied and everyone had a different sense of which ones were good and which were not.
But it is always best to leave such things to the wedding planners; well that is what they said.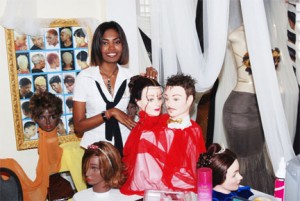 Planning a year ahead
Some will smile and say that they can plan any wedding if you want them to in the shortest space of the time, but only a few will bluntly say that time is a critical factor.
The best advice is to plan a year ahead, no ifs and buts about it. That is what Clide from Shantel Exotic Creation said and he had pretty good reason to support why – the working budget; the scope for much needed patience and the time for careful planning.
He offers a wedding planning service from the very beginning and his services come free of cost, but most expenses related to the wedding must go through his company such as the catering, choosing the hall and purchasing the dress. Basically, if you are going to spend money then he will tell you how to and where to.
But Clide knows his stuff. He can easily rattle off an enticing menu; describe a particular interior setting for a hall; name a romantic song; call a wedding gown designing house and even suggest a hairstyle based on your face structure. These are the kind of impressive skills that any blushing bride-to-be would drink up and be sucked in by.
It even counts for more that Clide is a chef and that he usually caters for any wedding he is working on. And when he starts to plan for you, he is there up until the lights go out at the end of the reception.
But wedding planners are not big here.  Guyanese still plan their own weddings, which means that Clide rarely gets such requests. He gets regular business for rentals and separate purchases.
Truth be told, wedding planners should be contracted more often, there is too much evidence out there of weddings gone wrong or weddings that could have gone right. (ianaseales@yahoo.com)
Around the Web