Tastes Like Home
Hi Everyone,
I've never been one to back away from a challenge. Though I'm the type who experiences a healthy share of intimidation and fear when venturing to make something new and complex, I'm also the type who will keep right on at it until I get it right. Sticktoitiveness they call it. So when I decided to try making that famous traditional Italian rice dish, Risotto, I went at it with fear and intimidation and my sticktoitiveness.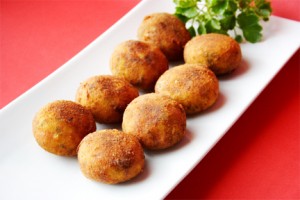 For almost two years now, I've had a note written in my ideas-book, to try making Risotto. Each week I'd look at the note and quickly turn the page out of fear, fear on two levels – fair of failure and fear of not liking it after standing at my stove for over half an hour cooking the Risotto. You see, the first time I had Risotto, several years ago, it was pasty and bland and that was the taste memory that lingered over the years.
Lately, however, the thoughts of Risotto had begun to haunt me – all the cooking shows were showcasing Risotto. Many of the food blogs I read were extolling the delights of Risotto and then the final straw – I was in the supermarket in the grains aisle, my handbag had slipped off my shoulder, I bent down to pick it up and when I stood up I was at eye-level with a row of Arborio rice, one of the main short-grained rice used to make Risotto. I stood staring at the rice and then moved on. I headed towards the cashier. As I stood in line, I found myself glancing over my shoulder towards the grains aisle with Risotto on my mind. I smiled politely at the person behind me, turned my cart and headed towards the Arborio rice, then I went to the next aisle and picked up the wine that I'd need for the recipe.
It would be a full four weeks later before I finally mustered the courage to set about making the Risotto; that is how intimated I was.
Rather than fill my head with advice from every book and blog, I turned to the book of the Italian cook I trust the most, Lidia's Family Table by Lidia Bastianich. Here's what she says in her introduction to Risotto:
"I want you in the driver's seat, following your senses and tastes, to achieve the texture and flavour you like best.
With Risotto, you see, it is more important to understand what you are doing than that you add things in prescribed amounts. When you are in control of what's happening in the pot, you will feel how powerful a few ingredients and a few techniques can be in creating an outstanding dish."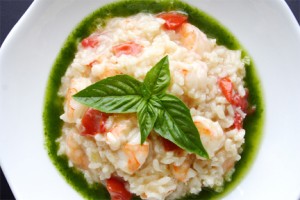 This advice emboldened me; I decided that I was going to make Shrimp Risotto to be dressed at the end with a basil oil. I gathered and prepped all my ingredients right down to making my own shrimp stock. Throughout the entire cooking process as with most cooking, my senses were engaged – I saw how the rice was changing character, I could smell the fragrant garlic, onions and citrus of the wine, I heard when the rice needed more liquid and then finally, it was time to taste – the flavour and doneness of the dish.
The entire dish was creamy without being mushy. The rice was firm but cooked through, the shrimp plump and tender, the tomatoes were fruity and the complexity of the wine offered a subtle tartness that balanced the richness of the Risotto. And finally, the herby sweet basil oil was the kiss of flavour that rounded out this dish that is best eaten hot.
I have to tell you, I was very pleased with my first effort at making this Italian staple, Risotto. As soon as I tasted the dish, all my fears vanished. I'm excited to make Risotto again, this time I want to ensure that I have company over to enjoy it too. Out of fear, I did not invite my tasters when I made the Risotto. I wanted my blunders to be private. I did share with my tasters though what I made with the leftover Risotto – Risotto Balls (Arancini). What can I tell you, it's a dish that keeps on giving.
Cold, leftover Risotto is best for making the balls. All you have to do is add a couple of beaten eggs, some breadcrumbs and a nice handful of grated parmesan cheese, form the mixture into balls, roll them in flour, a beaten egg and some more breadcrumbs and fry. The outside is crusty and the inside all hot and creamy. Truth the told, I want to make Risotto again just so that I can make the balls, they are that good.
So what do you think? You want to give it a try? If you do, let me know how it turns out for you. Remember Lidia's advice, follow your sense of taste to achieve the texture and flavour you like best.
Cynthia
tasteslikehome@gmail.com
www.tasteslikehome.org
Shrimp Risotto
Serves 4
Ingredients
For Risotto
4 cups shrimp stock
¼ cup olive oil
1/3 cup minced onions
2 tablespoons minced garlic
1 cup Arborio rice
1 cup dry white wine
Sea salt and ground white pepper to taste
1 cup chopped tomatoes
1 pound large shrimp, shelled, deveined and cut into bit-sized pieces
Basil oil (recipe below)
For Basil Oil
1 packed cup fresh basil leaves
½ cup olive oil
Equipment
1 blender
1 medium saucepan
1 medium heavy-bottomed pot or pan
1 wooden spoon
1 ladle
Method
1.  Add the oil and basil along with salt to taste to blender and blend until smooth. Pour into a bottle or bowl and set aside.
2.  Add stock to saucepan and let simmer gently on very low heat. It is imperative that the liquid be very hot.
3. Add oil and onions to pot/pan and heat on medium-high heat then reduce to low and cook the onions gently, until translucent and softened. Do not let the onions colour. This process should take about 5 minutes.
4. Add the garlic to the onions and continue to cook on low heat until softened, for another 5 minutes.
5. Pour in the rice and stir constantly for about 3 minutes, you want the onions to absorb the oil and when it has, you will hear the grains hitting the side of the pot as you stir.
6. Now add the wine and stir, season to taste with salt and ground white pepper. Turn up the heat and bring to a simmer. Once the pot comes to a simmer, reduce the heat and maintain a constant simmer. Stir every other minute or so and be sure to get to bottom as well as the corners and sides of the pot/pan. You don't want the rice to stick. In this stage you want most of the wine to reduce. It should take about 4 – 5 minutes.
7. When most of the wine has reduced, add 1 cup of hot stock to the pot and maintain the simmer until the rice absorbs most of the liquid (about 6 – 8 minutes). Repeat this process until you would have added 3 cups of the stock.
8. Add the tomatoes and shrimp along with the last cup of stock and simmer until the rice is cooked to your desired consistency of firmness and yet still saucy. This should take about 6 – 9 minutes.
9. Serve in warm bowls or plates and spoon the basil oil to make a ring around the risotto. Serve immediately.
Note
Substitute shrimp stock with chicken stock or water.
Around the Web