The successful staging of the Guyana Music Festival (GMF) last week was a welcome reminder that the arts are still alive in Guyana; the scores of youthful performers giving hope that this will continue in the future.
After a 12-year hiatus the festival returned, and was held from April 14-18, with the majority of sessions at the Bishops' High School Auditorium. Significantly just eight months ago, Guyana hosted the Carifesta X celebrations, and despite the various shortcomings of that event, the festival did provide a boost to the local arts industry.
The GMF provided a chance for Guyanese of all ages to demonstrate their talents and from all reports the event was a memorable one, even if the attendance was somewhat disappointing.
At the end of the five-day affair, there were winners in over 30 categories. Gem Rohlehr-Vogt was declared the Overall Champion of the Festival.  She also copped the prize for the Best Adult Vocal Soloist.
The prize for the Best Vocal Duet went to David Dewar and Russell Lancaster, while Ragendra Major was adjudged the Best Instrumentalist.
The Christian Brethren Assemblies was the Best Choral Champion.
In the Children's Championship, Hilary Bose was judged Best Vocal Soloist while the prize for the Best Instrumental Soloist went to Jamaal Skeete.   Skeete and Joshua Gittens copped the prize for the Best Instrumental Duet.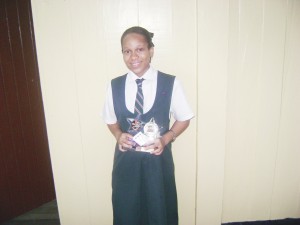 Prudence Julien was named the Best Verse Speaker, while the Bishops' High School copped the award for the Best Choral Speaking Group. Green Acres Primary School won the judges' nod for the Best Choral Group.
The performances during the children's championships were especially refreshing, speaking volumes and raising hopes about the future of the arts in Guyana. In a society where negatives abound the youth performances did provide optimism.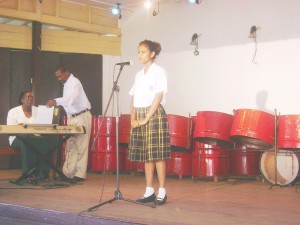 The powerful rendition of Rudyard Kipling's "If" by Bishop's High School Student Prudence Julien  would no doubt remain in the memories of all those who heard this powerful recital for a very long time.
This year's festival was coordinated by the Guyana Music Festival Committee, headed by David Dewar. The festival was revived by collaboration between Fellowship Lutheran Church of Tulsa, Oklahoma, through its ongoing partnership with the Evangelical Lutheran Church of Guyana and the Guyana Association of Music Teachers.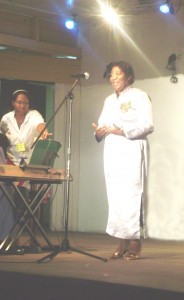 The hope is that the words of David Dewar at the opening ceremony held at the National Cultural Centre would have the necessary impact. Dewar sounded a clarion call for the re-entry of real music into the Guyanese society. He recalled that back in the glory days, music was present in schools and called for a revival of those days.
The GMF results are as follows:
Class 1 – Boy's Vocal Solo: 1st Eric Evanger Hodge.
Class 2 – Boys Vocal Solo 12 – 15 years of age: 1st Ovid Martious; 2nd Nicholas Elliot.
Class 3 – Girls Vocal Solo under 12 years of age: 1st  Annmarie Gomes; 2nd Sarah Lewis; 3rd  Nicolette La Rose.
Class 4 – Girls Vocal Solo 12 – 15 years of age: 1st Kimberly Samuels; 2nd Wadiya Cummings.
Class 5 – Girl's Vocal Solo 15 – 20 years of age: 1st Hilary Bose; 2nd Chauntele Cummings; 3rd Kimberly Samuels.
Class 6 – Verse Speaking 9 and under 11 years of age: 1st Selena Razac; 2nd Shalom Watson; 3rd Naia Joseph.
Class 7 – Verse Speaking 11 and under 13 years of age: 1st Saeed Mohamed Zameen & Nicholas Elliot, 3rd Richanna Staglon.
Class 8 – Verse Speaking 13 and under 18 years of age: 1stVania Legall; 2nd Christina Basil; 3rd Alicia Rogers.
Class 9 – Verse Speaking 15 years and under 18 years of age: 1st – Prudence Julien & Rosheena Khan; 3rd Melodie Lowe.
Class 10 – Choral Speaking Primary Choirs: 1st West Ruimveldt Primary School; 2nd Green Acres Primary School; 3rd St Anne's Primary School.
Class 11 – Choral Speaking: 1st Bishops High School.
Class 12 – Primary School Choirs under 12 years of age: 1st Green Acres Primary School; 2nd St Andrew's Primary School Choir Cove and John; 3rd West Ruimveldt Primary School.
Class 14 – Secondary School Choirs 12 years and over: 1st Annandale Secondary School Choir; 2nd Bishops' High School Choir; 3rd Trust College Singers & Marian Academy Secondary Choir.
Class 16 –  Action Song – Nursery School: 1st Company Road Nursery School
Class 18 – Folk Song – Primary School: 1st Winfer Gardens Folk Group; 2nd St Andrew's School Cove and John; 3rd St. Anne's Primary School
Class 19 – Folk Song Secondary Schools: 1st Golden Grove Secondary School Group.
Class 20 – Pianoforte Solo – Boy or Girl under 12 years of age: 1st Jamaal Skeete; 2nd Joshua Gittens; 3rd Jason Koylass.
Class 21 – Pianoforte Solo Boy or Girl under 15 years of age: 1st Prince Roberts; 2nd Nkechi McPherson; 3rd Nicholas Koylass.
Class 22 – Pianoforte Solo Boy or Girl under 18 years of age: 1st Hilary Bose
Class 23 Pianoforte Duet Boy or girl under 12 years of age: 1st Jamaal and Dominic Skeete.
Class 24 – Pianoforte Duet Boy or Girl under 15 years of age: 1st Jamaal Skeete and Joshua Gittens; 2nd Maya Phillips and Tevera Franklin
Class 26 – Recorder Solo Boy or Girl: 1st Joshua Gittens;
Class 27 – Recorder Solo Boy or Girl under 15 years of age: 1st Althea Mc David; 2nd Jana Edgehill; 3rd Mary Fung-a–Fat.
Class 29 – Soprano Solo: 1st Lianne Williams; 2nd Karen Yaw; 3rd Christene Delph.
Class 30 – Mezzo Soprano Solo: 1st Karen S. Yaw; 2nd Althea M. Brutus.
Class 31 – Contralto Solo: 2nd Marcella Thompson.
Class 33 – Tenor Solo: 1st Michael Thompson.
Class 35 – Bass Solo: 1st Sherwin Bart.
Class 37 – Vocal Duet Ladies Voices: 1st Abidemi Seaforth & Earnesta Nelson; 2nd Aletha Isaacs & Juliet Pearson.
Class 38 – Vocal Duet Men's Voices: 1st  David Dewar & Russell Lancaster.
Class 40 Verse Speaking: 1st Kathleen Henriquo; 3rd Adacie Fanfair
Class 41 – Songs from the Shows: 1st Gem Rohlehr – Vogt; 2nd Lianne Williams; 3rd Christene Delph.
Class 43 – Mixed Voice Choirs: 1st Christian Brethren Assemblies.
Class 44 – Church Choirs: 1st New Apostolic Church;
Class 46 – Instrumental Solo – Violin, Guitar, Woodwind, Brass: 1st Ragendra Major; 2nd Travis Griffith; 3rd Mark Dover.
Class 47 – Recorder Solo: 1st Hilary Bose; 3rd Alexis Maharaj.
Class 48 – Steel Pan Solo: 1st Michael Smith
Class 49 Steel Band (Small Bands): 1st Pan Groove Steel Orchestra.
Class 50 – Composition: This class has been reopened for more persons to take part.
Class 52 – Steel Band Schools: 1st North Ruimveldt Multilateral School; 2nd Bishops' High School
Children's Championship Winners
Best Vocal Soloist – Hilary Bose
Best Verse Speaker – Prudence Julien
Best Choral Speaking Group – Bishops'High School
Best Instrumental Soloist – Jamaal Skeete
Best Instrumental Duet  – Jamaal Skeete & Joshua Gittens
Best Choral Group – Green Acres Primary School
Adult Championship Winners
Best Adult Vocal Soloist – Gem Rohlehr Vogt
Best Vocal Duet – David Dewar & Russell Lancaster
Best Instrumentalist – Ragendra Major
Best Choral Champion – Christian Brethren Assemblies
Overall Champion of the Music Festival
Gem Rohlehr-Vogt
Around the Web