Guyanese music icon Eddy Grant will bring out his treasured 'Ringbang Guyana Guitar' when he entertains at the Indian Premier League (IPL) semifinals and final in South Africa.
The semifinals are billed for Supersport Park, Centurion, Pretoria on May 22 and Wanderers, Johannesburg on May 23. The final will be held at Wanderers, Johannesburg on May 24.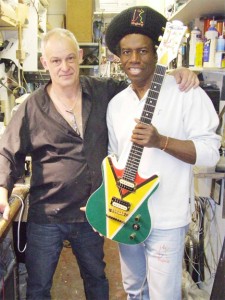 According to a statement from Chairman and Commissioner of the DLF IPL Lalit Modi, "The DLF IPL is thrilled that Eddy Grant has agreed to perform at the tournament's semi-finals and finals. The final stages of the 2009 tournament are set to be truly spectacular with not only close cricket contests, but excitement and entertainment of the highest order.
"We're certain that the crowds packing the stadiums will give Eddy the warmest welcome. And, as his recent tour to South Africa showed, Eddy has a tremendous following in the country that goes back many years to the role played by his iconic hit 'Joanna' in providing a cultural banner for many in the anti-apartheid struggle."
"Of course, we're also confident that, as a cricket fan, Eddy will enjoy his visits to the game as much as we'll enjoy his performances!"
Eddy, who spoke to The Scene on Thursday, said he was excited and honoured to have been given the opportunity to "play and present my music" at the IPL.
"My relationship with South Africa, of course goes quite a long way back," Eddy noted, adding that members of his Frontline Orchestra hail from various parts of South Africa. Some of them were previously part of the late Lucky Dube's band.
Eddy said it was his "hope that through this extension to the classic game of cricket, many bonds will be created between cricket fans and those arriving at the game at this time and format.
"Whichever team wins, hopefully, cricket will be the ultimate winner and the world, by virtue of today's technology will be supremely entertained at a time when it seems that we most need to be."
He noted that while this year's league was not held in India owing to security considerations, he believed South Africa has acquitted itself very well as host of this very visionary event.
Around the Web