Tastes Like Home
Hi Everyone,
I made pizza for the first time several weeks ago and marvelled at how well it turned out. The crust was exactly the way I wanted it – thin and crisp to the bite. The topping was a thing of beauty both to look at and to taste. As I stepped back to admire my work, I must admit, along with my pride, I felt a twinge of embarrassment; I realized I had not needed to buy the special pizza pan to make pan perfect pizza. But at least I had resisted the urge to purchase the overpriced pizza stone and pizza wheel cutter too.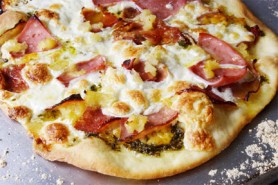 There have been times, over the years, when I have been less than courageous about making certain dishes. Sometimes it was because I did not have the prescribed tool, or ingredient. Sometimes it was because I was not proficient with a technique. In some cases it was just the fear of failure. But it seems that the old saying that with age comes wisdom is true. I celebrate my birthday today (never you mind how old I am!) And I think birthdays make us all a little philosophical. One thing I've come to realize is that I've become increasingly fearless in the kitchen. I think this is because, as I've become older, I've come to recognize that perfection is relative and the ability to adjust and adapt (equipment, ingredients, whatever) is a mark of resourcefulness.
Here are some dishes that I have had excellent success with but was once terrified of making.

Risotto – I was fearful of not getting the texture right after standing over the pot, stirring for more than half of an hour. I thought the dish to be fussy given that the liquid had to be added at intervals and that it had to be at a particular temperature in order to ensure a successful outcome.
Bajan Coucou – given that the tasters for this dish were Bajans put added pressure on me ensuring that I got this important part of their national dish correct. The main cause of concern here had to do with getting the right consistency and texture of the mixture through constant stirring. It took at least one and a half hours to cook!
Orange Marmalade – the British marmalade, to which we are accustomed in the Caribbean, is traditionally made with Seville oranges. I was concerned that I wouldn't get the right taste given that we do not get that variety of orange here. However, I am happy to report that the Caribbean oranges from Jamaica did an excellent job. And the mark of excellence comes from a family friend who has lived for many years in England and to date prefers his toast with some good ole marmalade.
Brandade de Morue (pureed salt cod) – with this dish, I was intimidated just because it was French! I don't know about you but I always feel like French cooking has an aura of superiority that's inaccessible to the home cook. With Brandade de Morue, in order to have the right consistency, it is necessary to keep stirring briskly as the garlic-infused cream is slowly drizzled in. Given that I don't have a stand mixer, I had to add the cream at intervals, stir briskly, add a little cream, stir briskly… you get the picture. The result was excellent and I didn't need a stand mixer after all.
I could go on with a list of other dishes but space does not allow. What I have learnt from these intimidating experiences, however, is that though it is important to have a healthy respect for tools and ingredients, one does not always have to have the exact equipment and tools to produce good food. There are excellent ingredient substitutions that yield sumptuous results. In other words, it's extremely important to trust yourself and trust your instincts.
One of the things I've noticed is that often both my fear and sense of accomplishment about a dish can be traced to my guests, food friends and tasters. I really enjoy sharing the food I cook and so when I get anxious about making a dish it is because I don't want to disappoint my food friend. However, they are also the source of my joy and confidence because there is nothing so wonderful as "tryin' a ting" in the kitchen and having it greeted with ooos and ahhhs, and the sounds of happily eating guests.
I know that I still have a lot to learn in the kitchen. Here is a short list of some of my cooking challenges I hope to conquer as I get older.
Swiss roll (jelly roll, roulade) – this delicate sponge cake made with separated egg whites and yolks that have been whipped to perfection with flour and cornstarch folded in, will have to wait for a day when I have the time to give it the kind of attention it needs. It has to be rolled while it's hot, unrolled, filled, rolled again and then left to be set before slicing.

Soufflé – though French, it is not its Frenchness that intimidates but rather failure of achieving the "rise" of the finished soufflé. Here's another dish that requires the beating egg whites to a particular degree and then gently folding it into other ingredients. A properly preheated oven is vital and the rule of no peaking must be adhered to! The best way to eat and present this is straight from the oven. I am more concerned about taking a photograph of the soufflé before it deflates rather than eating it. Go figure.
Cheesecake – the main reason I have not ventured into this realm is simply because I'm not really a cheesecake fan. I am not, however, one of those people who do not make certain things because they don't like or eat it. I want to make sure I get a good recipe as I understand that the middle should still jiggle a little after it's done baking and that it will set once left in the oven with the heat turned off. I have also heard tales of people's cheesecakes being cracked and hiding the crack with a fruit topping etc.
Yorkshire Pudding – I want to make this when I make a beef roast but this is one of those dishes that will have to wait until I have the right kind of company that would enjoy this kind of meal. I'm wavering between making it as popovers in a muffin pan or as the traditional Yorkshire pudding where the hot drippings from the roasting meat will splash into the batter and puff it up.
Well, you're going to have to excuse me. It's my birthday, which means I am going to relax and this evening, my friends are taking me to a wonderful seafood restaurant. I don't know what I'm having yet, but I know I will start with a fried calamari appetizer!
Cynthia
tasteslikehome@gmail.com
www.tasteslikehome.org
Pizza Dough
Yield: 6 (6-inch thin crusts)
Ingredients
4 cups all purpose flour, plus extra for work surface
1 tablespoon sugar
1 tablespoon instant dry yeast
1½ – 1¾ cup warm water
3 tablespoons Olive oil
1 teaspoon kosher salt
Method
1. Add flour, sugar and yeast to a large bowl and mix thoroughly.
2. Make a well in the centre of the flour mixture.
3.  Pour in water, oil and salt.
4.  Mix with a fork until the dough comes together. Turn on to a well-floured surface and knead for 3 minutes.
5.  Oil the bowl and place dough in it. Rub some oil on top of the dough. Cover with plastic wrap or a damp towel and let rise for at least 1 hour.
6.  Punch down dough and knead for 1 minute. Let rest for 15 minutes before dividing dough and rolling out or stretching to make pizza.
7.  Preheat oven to 450 degrees F.
8.  Add sauce and toppings of choice. Add to sheet pan or pizza pan and bake for 20 minutes or until the edges are nicely browned and the cheese has melted and bubbly.
Note
Divide dough to your desired thickness of pizza
Around the Web