Hi Everyone, It peels just as easily, it cooks faster and it can be prepared very much the same way as you'd prepare the English potato – baked, boiled, mashed, sautéed and even be made into to chips and fries. Which potato is it? The sweet potato!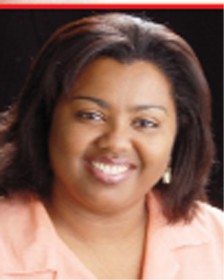 Confused in some countries for yam, the sweet potato comes in dozens of varieties. The variety we commonly find in the Caribbean and simply call sweet potato is also referred to as tropical sweet potato, Cuban sweet potato, white sweet potato, white-fleshed sweet potato and boniato. The skin is purple and the insides white. This white sweet potato variety with which we are familiar, is not as sweet as say the orange-fleshed sweet potato that is commonly found throughout North America. The white sweet potato offers a fluffier consistency; it's more starchy and delicate in its sweet flavour. I think that it is the delicacy of this flavour that makes it exceptionally delicious in many savoury dishes.
Though the sweet potato is versatile, here in the Caribbean we generally cook it one way – boiled. We boil, slice and serve it as part of a ground-provision meal (aka dry food); we add it to dishes such as Rundown (Jamaica) Mettagee (Guyana), Oil down (Grenada, Trinidad). In Barbados it is the main ingredient in a savoury sweet-potato pie (not to be confused with the popular North American dessert, sweet potato pie).
Given that I am always on a quest to find new ways to prepare familiar ingredients, this week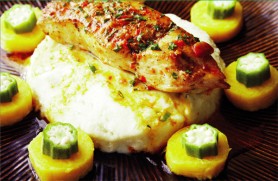 I want to share with you some suggestions on how to cook this ground-provision. If the sweet potato is not a favourite of yours, I challenge you to try cooking it in one of the suggested ways, who knows, you may grow to like it. The best part of all this is that the sweet potato is good for you! It is an excellent source of Vitamins A and C and includes good amounts of dietary fibre, copper, potassium and iron. Ready? Let's get started.
For those of you new to sweet potato, here's an excellent way to introduce yourself to it. Peel and boil it then cut and eat it while it is still warm. This will give you an idea as to the degree of sweetness and the texture. Alternately, boil it in salted water, cut it while still hot and have it with an herbed butter or regular salted butter.
Boiling it in the salted water and eating it as is or with the butter will immediately give you an interesting contrast of sweet and salt. Have it for breakfast and you'll not only get your vitamins, it will also keep you up throughout the day.
If you're like me and love French fries, steak-cut fries and potato wedges, then this alternative will leave you feeling less guilty. Scrub the potatoes with a vegetable brush; cut into wedges or slice thinner if you like, sprinkle with salt and pepper or a spice mix and bake in a preheated oven and in ten minutes or less, you will have fries or wedges!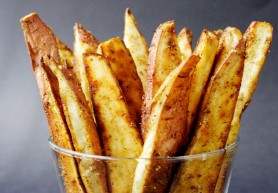 Serve your baked meats with roasted sweet potatoes. Once cleaned, cut into large chunks, sprinkle some salt and pepper along with minced herbs if you like and in fifteen to twenty minutes you'll have your roasted sweet potatoes. The time will vary depending on how large or small you cut the sweet potatoes.
The next time you are making potato salad, leave out the regular potatoes and substitute with the equally starchy, fluffy and lightly sweet, sweet potatoes.
For a side dish that will have your guests asking for more and the recipe, a savoury sweet potato pie delicately spiced with cinnamon and nutmeg is the way to go. Add some crushed pineapple to the mixture and watch their faces light up with pleasure.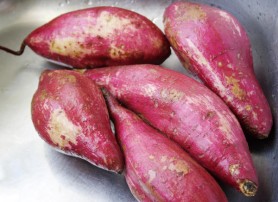 Want to make baked sweet potatoes as your main starch for the next meal? Not a problem, cook and treat them the same way you do your regular potatoes; they'll take less time to cook. When they're finished baking, make a slit both ways at the top, squeeze the sides to push up the sweet, piping hot flesh, sprinkle a little salt and black pepper, add your sour cream and green onions and serve immediately.
Another way to make and serve the white sweet potato as your main starch is to mash it as you would when making mashed potatoes. Add the same ingredients you'd use with the English potatoes – milk and or cream, sour cream, butter, salt and pepper, roasted garlic, minced fresh herbs, sautéed spinach, sweet peas etc. It can be as creative as you want it to be.
Okay, I'll stop now because I know that all this talk about the sweet potato has you craving it so I am going to let you go so that you can head out to the market, supermarket or wherever you shop to get ground provisions. Enjoy!
Cynthia
tasteslikehome@gmail.com