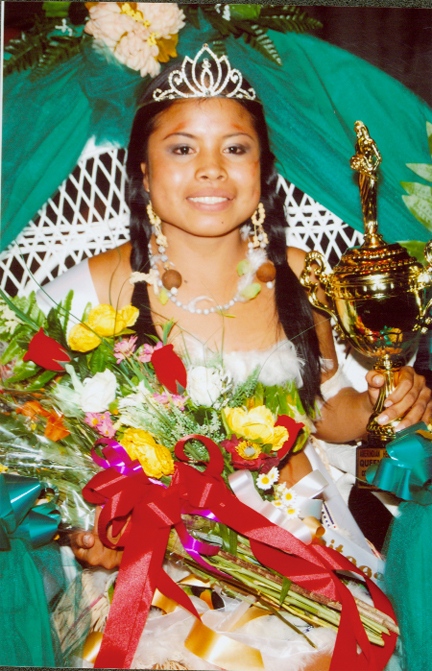 By Tiffny Rhodius
When 16-year-old Nandanie Jerry entered the Miss Amerindian Heritage pageant she did not do it for the prizes or the fame. Rather, she entered because, "I wanted the opportunity to showcase the culture, talent and intellectual progress of the Amerindian people. I wanted to show what an Amerindian person can do in every way possible."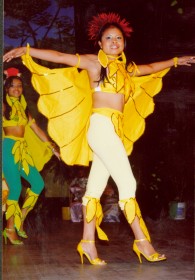 This vibrant teenager of lofty goals believes that her outlook on life and the person she is will also help her in her plans. "I am an all round person who can do anything and take up any challenge that comes my way," she says.
It was this attitude and the challenge the pageant posed along with her well-meaning intentions enforced by the support of family and friends, she feels, that helped her win. But she was always confident of victory. "Support from my friends gave me courage to do what I had to do. My parents were so proud," she remembers, when she won, pointing out that her mother could not get over her surprise at the win. However, Nandanie said, "I knew that I was going to be queen all along."
Nandanie, who is a student at President's College is of the Akawaio tribe and originally from Waramadong. She  admits that the pageant was challenging but at the same time wonderful since she got to meet girls from different tribes as well as new and interesting people. "I got the chance to meet most of the government ministers and I found them to be very interesting. They can socialise well and I really admire that." The confident and well spoken young lady who seemed very sure of her capabilities and what she wanted is very much interested in socialising since she gets the chance to meet new and interesting people.

Focused and determined, Nandanie believes she has what it takes to balance completing her sixth form classes and pageant duties. The science stream student also plans to work hard to promote her platform the Low Carbon Development Strategy (LCDS).
She justifies her stand for the strategy: "Since our country needs to develop, this strategy provides a way for this to be possible. The abundance of the forest and the services it provides [means] we deserve to be paid [and] with that money we can develop." She has now become another spokesperson for the LCDS, which in a nutshell seeks to get the international community to pay Guyana to keep its forests. Nandanie tells The Scene that this was the platform of all the contestants.
The glowing young queen related to The Scene that life as an Akawaio is "pretty much normal". She said that their beliefs in the Kanima, which she assures is very real, the Piai and the Spirit Rau or water mammal and the practice of hunting, farming, gathering along with painting their faces and wearing headdresses keeps them in touch with their native ways. Besides all this however, Nandanies says that they dress like others and live like most people in the country.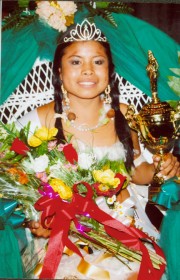 After spending her formative years in Waramadong, she won a Hinterland Scholarship to attend President's College and this she believes, "Gave me the opportunity to meet other people throughout the country." She even stated that attending the school it has helped in her development of her public speaking skills and this she feels was another contributing factor to her walking away with the crown. And now with two years to promote her platform and showcase her culture to the rest of the country, Nandanie is most looking forward to "meeting new people".
While she is very adamant about promoting her culture so that people can have a better understanding of the Amerindian culture, Nandanie says that one of the aspect of maintaining her culture is the dialect and she believes that all Amerindian should know to fully speak their dialect, while at the same time admitting that she only knew a few expressions of hers.
Aside from having a successful reign as Miss Amerindian Heritage, Nandanie hopes to one day be a member of the national female football team. And while she is not as certain about her academic future, she does know that she will utilise the scholarship to the University of Guyana, which is part of her prize, to pursue something in the field of science. But the thing she wants more than anything, "I really want to become a famous footballer," she gushes her love of the game evident.
She recalls with excitement her visit to Orealla where Amerindian Heritage Day celebrations were held and the opportunity that was presented to her to play a game of football. However, she was unable to participate because of pageant duties. But that aside she said that her visit to the community was a memorable one, "Orealla reminds me so much of home. Its an experience I won't forget."
While her ultimate sport is football Nandanie says she also likes volleyball, cricket, swimming and she also plays table tennis at her school. When she is not involved in some sport Nandanie likes to hike, camp, traverse "upriver" in her speed boat and especially gather fruits. "I love exploring nature's beauty," she says. (trodhius@yahoo.com)
Around the Web