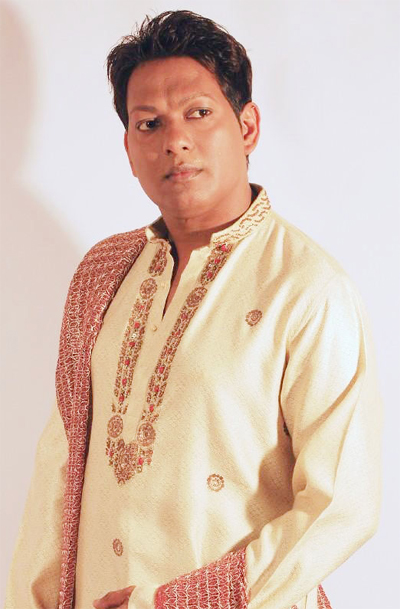 – puts off retiring as 'big break' looms
Many years ago as a young man he was a dancer with the Guyana Police Force, and today Guyanese Dheeraj Gayaram is trying to create history by becoming the first West Indian to have a Broadway show.

Come early next month Dheeraj and his dance troupe will audition at an off-Broadway theatre and should their production meet the required standard, it could be on Broadway for the upcoming season.
"It is really something big because it is the first time a West Indian-produced show would be on Broadway," Dheeraj told The Scene in an interview at his Liberty Avenue, Queens, New York dance headquarters.
This would be 'the big break' for Dheeraj, who has been dancing since he was nine years old. He was on the verge of retiring from the stage but now should his show make it to Broadway then he would continue doing what he loves doing most.
"I was about to retire… I think I had enough but with this now [the upcoming audition] I will continue because it is history-making," he said.
So come November 7 and 8 at the American Theatre of Actors in Manhattan Dheeraj and his dancers along with actresses and well-known Guyanese singer Terry Gajraj will put on a show under the theme 'West Indian Dreams.' According to Dheeraj, the show will feature both Bollywood and African dances and would have a storyline, which he did not disclose, with him playing the lead role.
It was back in May when Dheeraj held a show in Queens, New York, with the same name that a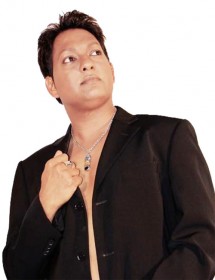 Broadway producer happened to be in the audience. At the end of the show he was approached with the offer for the show to be developed for an off-Broadway theatre. But because his annual West Indian Music Awards show was right around the corner Dheeraj said, he initially refused the offer so he could focus on the awards show.
"I felt if I was going to do the Broadway show then I have to focus all my attention on it so it was after the awards that I went back to the guy," he told The Scene. He said at time he also was not "emotionally" ready for such a big step. He said initially the producers only wanted him to perform but he knew that it would have been difficult for him to perform solo for two and a half hours.
"So they told me to get the show going, work on the script and come back… if they liked it then they would accept it and get some of their people to work on it after the audition," he said.
He is hoping now that not only will the show make it to Broadway but also one of his "beautiful dancers" will be recognized and given a career boost.
"It would be so good for someone to be recognized and they get something really big," he said.
Dancing policeman
Dheeraj told The Scene that he left Guyana in 1989 at age 24 at which time he was a constable in the police force but he did no real police work. Instead, he was attached to the force's cultural department and basically did what he did best, danced.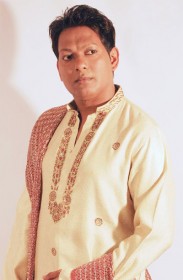 Tracing back his dancing history, Dheeraj recalled that he won his first dance award at the tender age of nine and at that time he danced at the Maha Sabha Diwali Fair and performed to both classical and pop music.
Two weeks after he came to the 'Big Apple', Dheeraj said, he won his first major dance award and he has not looked back since. "I have done over 6,000 shows," he said.
Later, he won the Naya Andaz Award of India, which, according to him, made him the first West Indian to win that award.
Dheeraj describes himself as one of the best dancers around and told The Scene that he has "toured the world with some of Bollywood's big stars."
In 1994, Dheeraj opened his own dance school on Liberty Avenue which now has some 70 dancers as well as branches in the Bronx, New Jersey and Schenectady.
But even though with all this Dheeraj said, he is still forced to hold down a "regular" job, because he does not get the kind of support he would need.
He berated the Guyanese business people in Queens who he said would faster support a show that does not really promote Guyanese or even West Indian persons than support one that is promoted by a Guyanese.
He has a local TV programme called DNA which strictly promotes West Indian music, and which does not get any real corporate support, but he vowed to keep it on the air.
While he is always "heavily booked" for occasions such as weddings and other functions, Dheeraj said he is paid a pittance compared to what artistes from other countries are paid and as a result he was on the verge of retiring from show business when the Broadway opportunity presented itself.
He also performs on local soil. Earlier this year he performed at the Princess Hotel, Starlite Drive In and Albion Ground but said the money he is paid is nothing to write home about.
Also, Dheeraj said, with the recent financial crisis people are no longer hiring for shows and functions as they did before.
"I am doing the work, trying to promote Guyanese… but the business people are not supporting me," he complained adding that while he has received a number of congratulatory messages following his Broadway offer no one "has put their money where their mouths are and help to sponsor us."
While Dheeraj might not continue in show business much longer and he finds that there is "so much drama in show business" he still hopes that his 15-year-old daughter Nikita, who he described as a "very good dancer" would make it big.
Guyanese will soon be given another opportunity to see Dheeraj on November 27, 28and 29h when he will perform at Starlite and Albion along with Terry Gajraj and the Supertones band. (samantha_alleyne2000@yahoo.com)
Around the Web