Benji Diamond and Gadkin, two talented Guyanese musicians, aim to live their dreams and use their music to rebuild the "moral breakdown" while providing listeners with a blast of culture.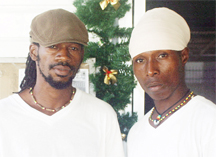 In a recent interview with The Scene, Marlon 'Benji Diamond' Sansculotte said that he and his partner have sung over twenty songs over the last seven years. Benji Diamond of Bagotsville, Canal Number One, West Bank Demerara, like most artistes serious about their trade, fell in love with singing as a youth in church.
He has moved through various groups ranging from the Marcus Family to Ghetto Vibes. Benji Diamond and Gadkin, though being acquainted for years, got serious about "linking up" during the time they spent in the group, Marcus Family. The duo has been performing together for about seven years.
"Good music is available out there," Benji Diamond told The Scene, "but the lyrics are all negative and send out negative messages to our youths. Through our music we aim to rebuild this moral breakdown caused in society, especially among our youths, by this negative music."
Black Watah's music is deep culture first written in the form of lyrics and then weaved into works of art using two powerful voices and lively reggae beats and it does not confine itself only to Guyanese or Caribbean people. Benji Diamond says Black Watah's music will be marketed internationally and is for everyone.
"We are not targeting just Guyanese, the Caribbean and the Diaspora," Benji Diamond stressed, "but we are targeting everyone who has an ear for reggae because we want our messages to reach as many people as possible."
Benji Diamond is passionate about his music; he loves it and he's bold about his feelings. He is an independent Agriculture Officer who graduated from the Guyana School of Agriculture with a Diploma. However, Benji Diamond says music is what he loves and he will always pursue it above other professional endeavours.
Travis Carter also known as Gadkin, the other half of Black Watah hopes that the group's music will inspire listeners to have "strength, faith and patience and not rush things in life" and remember that "the Most High lives."
Gadkin who grew up in Good Intent Village on the West Bank Demerara recalls singing since he was seven. He fell in love with the vibes when he witnessed his uncle and his "tinning-cup band" (or tin-cup band) perform at a neighbour's residence when he was about seven and, "Well I just love the vibes ya know, just love it."  (For the uninitiated, a tin-cup band uses tin cans – the ones that come with milk, beans, sardines etc to make music. The musicians beat out tunes on the empty tins using short sticks, sometimes knitting needles depending on the sound they want. Sometimes they place small stones in the tins for a different sound. The Scene has been informed that the result is usually quite melodious.)
Eventually Gadkin and his young "brethren" in the area created their own tin-cup band. He nurtured his love for music never missing a chance at any school function. He attended the Wales Community High.
Today the 28-year-old's love has turned into a full-time occupation, "Music is really, really important to me. I don't do anything else except music." The music he says is "consciousness" and they do not promote violence rather, he explains, the music encourages people to seek out their "roots, culture, everything except violence". He tells of his journey to Black Watah.
After his tin-cup band days, through a mutual acquaintance Gadkin says he was introduced to Benji, his Black Watah partner, and along with two others they formed a group called Marcus Family. They caught their first break on the Mark Benschop show and after several songs and a few years the group split and as Gadkin puts it, "Everyone hold on a level".
Then came Ian Johnson's Talent Exclusive show where Gadkin was a one time winner. The show searched out new talent live on television. Later, he said, he reconnected with Benji and again they formed a group performing on Talent Exclusive.
The duo then decided to form a group again and with the name Truly Blessed, created a 15-song untitled album and Gadkin explained that the music was released overseas.
It was the feedback from the release that led to them changing their name from Truly Blessed to the now Black Watah and now the twosome is hoping to conquer the world and showcase Guyanese talent.
Gadkin says he draws his inspiration for the music from "the things we go through and the Most High".
Having finished their personal accounts Benji Diamond and Gadkin kicked back and sang a verse from their song "Beautiful" for The Scene.
Their voices were really something to listen to; soothing almost and are sure to remind many of "back home" as well as intrigue others about the Guyanese culture.
"These women are beautiful", the Black Watah song repeats and encourages women to be independent, focused, trust themselves and be the best.
Finally, Benji Diamond, expanding on why they changed from Truly Blessed to Black Watah, said the initial title portrayed them as Gospel singers. They opted for Black Watah, a more cultural title, which also reflects one of the things which makes Guyana beautiful and the group's reggae essence.
"We believe in the Most High," Benji said, "and some of our songs will show you that belief, but we're reggae; culture music." ([email protected])
Around the Web