Hi Everyone, Khichri (kitch-tree) is a dish with its roots firmly in India. This humble dish of rice and lentils (dal) crossed the seas many years ago to England where it has been adapted and reinterpreted as Kedgeree. Khichri has travelled here to the Caribbean too, though it is rarely made and talked about these days.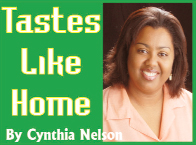 Khichri is a one-pot dish of rice and dal cooked with spices. When cooked it can be dry as a regular dish of rice and peas or it can be soupy. The spice combo used to season and flavour the dish as well as the texture – dry or soupy is a matter of preference for each household. The origins of the dish lie in Northern India.
Kedgeree is a one-pot dish also. It consists of rice, smoked fish and boiled eggs. It's coloured with turmeric and perfumed with bay leaves and a spice of choice – cardamom or mustard seeds. Kedgeree is considered to be a traditional English breakfast dish.
My mom says that growing up, they ate khichri on Fridays. It was a meal always prepared at the end of the week before grocery shopping for the following week would take place. Her mother prepared it both dry and soupy; each week it was alternated – dry/soupy; my grandmother did not want her family to be bored having it one way all the time. Mommy says she preferred hers soupy. My mother has never made this dish for us. I know that mommy never really liked dal and now I understand why. I think it's because she had many meals that consisted of dal as a component and therefore lost her appetite for it. Sure she'd cook dal for us but not often. She'd declare aloud that she did not like dal. Fast-forward to the present and you will find that my mom craves dal and makes it often. You should have heard the excitement and love in her voice and she recounted her days of eating khichri. This is a perfect example of how our tastes and preferences fluctuate and change as we grow.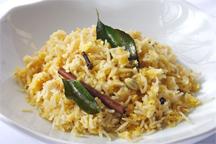 Mommy also told me that at Hindu Weddings (Caribbean), the bridegroom (dulaha) would be fed khichri when he arrives at the home of the bride (dulahin).
Isn't it interesting how and when khichri was consumed in this part of the world – as an evening meal and at the end of the week. In India, where it originates, khichri is a traditional breakfast dish. Protein-rich because of the quantity of lentils, it is given to young children to introduce them to solid food. It is the dish prepared for someone not feeling well or recovering from a bout of illness.
So how did khichri become kedgeree? I've said it before – food travels and people adapt dishes to suit their tastes and ingredients available. During the British Raj (colonial rule of India 1858 – 1947), the dish was adapted and turned into something more familiar to those serving there, hence the addition of smoked fish and eggs. Clearly, it was taken back to England and became a part of that country's culinary landscape.
This past week I made both dishes and I like them both. The khichri reminds me of a good ole plate of split peas and rice but the various spice combinations I can use for the dish, makes it exceptional. I like that I can eat it as is or I can cook a piece of fish, some shrimp, chicken or meat to eat with it. I don't have to restrict khichri to breakfast either; actually, I had it for dinner and lunch!

Kedgeree I find to be the fancier of the two, from the looks as well as the taste. The brilliant yellow of the turmeric-coloured rice, the intoxicating aroma of the smoked fish with its saltiness that dances on your tongue, the zing from the fresh lime juice, and the nuttiness of the mustard seeds. I did not even feel that the eggs were necessary. Now this is the kind of breakfast dish I can wake up to. You guessed it though, I had mine for lunch and dinner.
Khichri, a dish with so much history and so much character!
Khichri
Ingredients
1 cup red lentil dal, soaked for ½ hour
1 heaped cup Basmati rice, washed and soaked
with water for ½ hour
3 tablespoons ghee (substitute with oil), divided
1 heaped cup sliced onions
¼ teaspoon blackpepper corns
3 whole cloves
3 green cardamom pods, lightly bruised
1 (2-inch) piece cinnamon stick
1¾ cups water
salt and pepper to taste
Method
1.  Add 2 tablespoons ghee to pot and heat on
medium heat.
2.  Add onions and sauté until brown (about 7 minutes).
3.  Remove half of the fried onions and set aside.
4.  Add spices – peppercorns, cardamom, cloves and cinnamon to pot and sauté.
5.  Drain rice and lentils, add to pot and stir. Let fry for 2 – 3 minutes.
6.  Pour in water, add salt and pepper to taste along with remaining tablespoon ghee to pot, stir, cover and bring to a boil. As soon the pot comes to a boil, reduce the heat to low and let cook undisturbed for 25 minutes. At the end of this time, turn off the heat and let rice stand untroubled for 10 minutes before fluffing.
7. Serve with reserved fried onions
Kedgeree
Ingredients
1¼ cups Basmati rice, washed and soaked in water for ½ hour
8 ounces smoked fish
4 tablespoons ghee, divided
1 heaped cup diced onions
1 tablespoon minced ginger
Minced hot pepper to taste
¾ teaspoon ground turmeric
1 teaspoon black mustard seeds
4 – 6 curry leaves, optional
2 cups water
Salt to taste
1 tablespoon + 1 teaspoon fresh lime juice
1/3 cup chopped cilantro
3 boiled eggs, sliced
Method
1.  Add fish to a saucepot along with water, cover and bring to a boil. Let cook for 12 minutes, drain and flake. Set aside.
2.  Add 3 tablespoons ghee to a separate pot and heat on medium heat.
3.  Add onions and sauté for 3 minutes.
4.  Add ginger, hot pepper, turmeric and mustard seeds and sauté for 1 – 2 minutes.
5.  Add drained rice and curry leaves and sauté for 2 – 3 minutes.
6.  Pour in water, salt to taste (take into consideration that the fish will have salt too). Stir, cover and bring to a boil. As soon as the pot comes to a boil, reduce heat to low and let cook undisturbed for 25 minutes. Remove from heat and let stand untroubled for 10 minutes.
7.  When the 10 minutes are up, add smoked fish, drizzle the lime juice, scatter cilantro and toss to incorporate. Let stand for 5 minutes before serving with sliced boiled eggs.
Cynthia
Comments

One day she took all of her savings and ordered camera equipment, giving in to the pull of photography; she has not looked back since.

Eight gorgeous young women will vie for the inaugural Miss Teen Yarrowkabra crown on Saturday, November 25, at the Yarrowkabra Gym.

Last evening 18-year-old Vena Mookram would have flown the Guyana flag high on stage at the 67th Miss World pageant at the Sanya City Arena in Sanya, China.

Come tomorrow night at the Giftland Mall patrons would be treated to the 'Best of Nothing to Laugh About' which would comprise some of the best skits that show did over the last ten years since it entered the entertainment industry.

At just minutes to midnight on Sunday, November 5, Cindyann Khan was crowned the new Miss Guyana Talented Teen, and Oshay Roberts the first ever Miss Princess Guyana before a large gathering at the Promenade Gardens.