– Caribbean flights could be landing at Ogle by year-end
Last Wednesday, at around 07:35 hrs, a Cessna Caravan aircraft with about half a dozen passengers on board landed quietly at Ogle International Airport. The once daily flight originating at Suriname's Zorg-en-Hoop Airport arrived just over half an hour later that its anticipated 07:00 hrs arrival time.  Compared with the extent of delays that can occur with international flights the lateness was a small matter. None of the passengers seemed unduly perturbed. Occasional lateness is a small price to pay for a service that offers once-a-day flights, virtually from capital to capital, between Suriname and Guyana.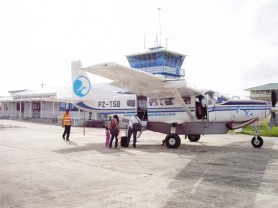 Blue Wing, the Surinamese airline which sometimes moves up to 18 passengers between the two countries, is a small, industrious operation that thrives mostly on the opportunities to move both passengers and cargo that have been opened up for domestic travel to Suriname's interior regions occasioned by the current major expansion in  the country's gold sector. The journey to Ogle is as routine as the journey to Suriname's gold-bearing locations. Diplomats, businessmen, politicians and tourists all use the service. The one-hour flight is quick, uneventful and, perhaps, no less significantly, it creates another invaluable link between two neighbours who are not always the best of friends.
For Guyana, the real significance of the restoration of the 57-year-old Ogle Aero-drome reposes in the role it promises to play, first, in the further exploitation  of the mining and timber harvesting opportunities in Guyana's interior and in strengthening both hemispheric and regional links with strategically important countries. Suriname, Brazil and Venezuela, our three contiguous neighbours, come readily to mind. The promise, however, extends beyond the strengthening of bilateral ties with immediate neighbours. The Caribbean beckons and later this year, after the extension of the Ogle runway to the intended 4,000 feet is completed, the first wave of Dash Eights' with seating capacity for around 50 passengers will pour into Ogle Airport.  It has been a long and arduous journey for an aerodrome that was built by Bookers Sugar Estates for light aircraft to undertake agricultural work and which commenced charter operations as long ago as 1958.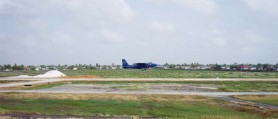 Up until now the Ogle Airport Inc consortium has pumped more than US$15 million into the Ogle International Airport Project. It is patently clear, however, that there is more work to be done and that more money will have to be invested. Workers are currently adding a further 500 feet of tarmac to each end of the runway and there is still a new airport building to be constructed. That apart, there is much evidence of the need for refining the facility, landscaping huge expanses of scarred lawn, undertaking a tree-clearing exercise to expand the extent of the facility and constructing car parks and other public facilities.
Even in its current incomplete state the Ogle International Airport is a significant triumph for private sector entrepreneurship and particularly for the four aviation companies – Trans Guyana, Air Services Ltd, Roraima Airways and Mekdeci Aviation – that, collectively, comprises the Board of Directors of Ogle Airport Inc. The effort to transform Ogle into a thriving Municipal Airport originated with the signing of a lease agreement between the aviation companies and government for the development of a facility which, through state indifference and inertia had been allowed to decay and to become a haven for stray animals. "I remember the days when you used to have to chase cows off the runway," David Fennel, a Canadian investor with mineral interests in both Guyana and Suriname remarked on Wednesday, shortly after arriving at Ogle on the Blue Wing flight.
The private investors have had some help. They have received a 1.9 million euro grant from the European Community, a piece of good fortune for which they give credit to Caricom Secretary General Edwin Carrington. Arguably, the Caricom Secretary General's diplomatic efforts on behalf of Ogle Airport Inc may contain an element of vested interest. Caricom, of all of the regional and international organisations based in Guyana, stands to benefit immeasurably from an international airport linked to the international community through the Caribbean a situated a stone's throw from the Secretariat at Turkeyen.
On Wednesday, the routine Blue Wing flight from Zorg-en-Hoop was being handled by Roraima Airways' Operations Superintendent Basudewa Rupchand. There is a reciprocal arrangement between Blue Wing and Roraima that goes back to the early 1990s when mining operations in both countries increased the demand for the trans-national movement of passengers. Rupchand remembers Ogle from the time when the facility was little more than a "mud strip." The Blue Wing service is still a modest one and Rupchand functions as a sort of Jack of all trades, that is, he must attend to all of the various regulations and protocols associated with international flights. He makes no secret of the fact that he enjoys his job.
In less than half an hour the Cessna Caravan was ready for its return journey to Zorg-en-Hoop. The two Civil Aviation functionaries inside the Airport's Control Tower handled the plane's departure with a sense of un-fussed efficiency. These days the control tower is busier. During our stay at Ogle we counted more than 20 take offs and landings and Roopchand says that sometimes there are up to 60 take-offs and landings daily. Most of the aircraft are heading for the interior, taking miners and loggers to their destinations and ferrying tourists to interior resorts or to tourist sites.
What is unique about Ogle Airport Inc is the fact that its Board of Directors comprise the heads of separate companies, competing aggressively for their respective shares of the local travel market; and yet they appear to recognise that it makes for good sense to work together to develop a facility which, in the fullness of time, will contribute both to the growth and development of several key sectors of the Guyana economy as well as to expansion of their own respective shares of the local aviation market.
Around the Web