Newly elected President of the Georgetown Chamber of Commerce and Industry (GCCI) Komal Ramnauth has told Stabroek Business that the chamber will be seeking to continue earlier discourses with government on the creation of a duty-free zone in Berbice.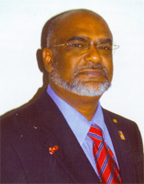 Ramnauth, who, on April 23 was elected the 46th President of the GCCI, succeeding Demerara Tobacco Company Chief Executive Officer Chandradat Chintamani, said he believes the completion of the proposed deep water harbour in Berbice and the attendant creation of a duty-free zone will create significant access to regional markets for local entrepreneurs holding distribution rights to products that are in demand. "Apart from the fact that such a facility would mean increased employment opportunities for Guyanese,  there are also other advantages to be derived… including increased shipping to enable the movement of cargo to external markets," Ramnauth said.
"This is not a new idea. The private sector had discussions with President Bharrat Jagdeo during last year at which time I recall that he was receptive to the idea and had agreed to entertain a proposal from the private sector. The idea was also discussed with a delegation from India that had come to Guyana to look at the prospects for a deep water harbour in Berbice."
Ramnauth said he believed the nature and scope of such a project required both government and private sector involvement.
Meanwhile, Ramnauth told Stabroek Business that under his presidency the chamber would continue to pursue the initiatives undertaken by his predecessor to address "several internal issues" that had to do with continually improving the quality of its service to members. "We intend to continue to place emphasis on persuading more businesses to become members. More membership will obviously mean that more of the private sector will be able to benefit from what the chamber has to offer. An expanded, stronger chamber is part of our objective," Ramnauth said.
However, even as the GCCI continues to pursue expanded membership, it will be seeking, simultaneously, "to commit our membership to higher standards and practices in the conduct of business." In this regard Ramnauth told Stabroek Business that part of the immediate focus of the chamber will be on the ratification of its Code of Conduct which sets out particular criteria for membership of the organisation and commits members to ethical standards.  The Code of Conduct is governed by seven "statements of principles" that address legislation, employment, consumers, suppliers, competition practices, community and environment and implementation, enforcement and monitoring. Compliance with the provisions of the code is the responsibility of the chamber's Executive Director and its Security and Governance Committee.   Ramnauth told Stabroek Business that the GCCI will continue to place emphasis on advocating members' compliance with regulations governing the payment of employees' National Insurance Scheme contributions and Guyana Revenue Authority taxes.
Ramnauth said the GCCI would also continue to focus on strengthening the relationships between and among the regional chambers of commerce as well as that between the GCCI and the regional chambers. "We want to tackle this issue before we move to address the relationship between a stronger local chamber and chambers and their umbrella organisations in the Caribbean," Ramnauth said.
Asked to comment on complaints made by small and micro enterprise operators about limited opportunities to become members of mainstream umbrella business organizations, Ramnauth said the GCCI had gone to great lengths  to "make room" for small and micro businesses. He alluded to a resolution passed by the chamber in July 2008 which created a fees structure for chamber membership based on business size. Under that structure, corporations and firms with annual turnover greater than $500 million pay a subscription fee of $100,000 per annum, while businesses with an annual turnover of more than $50 million but less than $500 million pay $50,000 annually. Micro and small businesses with annual turnovers of less than $50 million and not-for-profit organisations pay annual membership fees of $25,000. "There is now no reason for any category of business to complain that they do not have access to the chamber," Ramnauth said.
Meanwhile, the newly elected president said GCCI, along with several other local agencies will participate in a USAID-sponsored Law and Development Conference which is geared towards private sector governance enhancement. Among the other agencies which participate in the forum are the Private Sector Commission and the Law Department of the University of Guyana.
And according to Ramnauth the GCCI will continue to pursue an "open door" policy in relation to local media houses. "I have noticed that my predecessors have, to varying degrees, sought to keep lines of communication open between the chamber and the media houses. During the brief period that I have been president of the chamber I have already had four meetings with media houses. Making the chamber increasingly accessible to the media is important because we need to create a greater awareness of the role of the private sector in Guyana. We also intend to further extend the reach of the chamber by ensuring that we build an information base through our website."
Ramnauth said the chamber will shortly be undertaking a review of its 2008-2012 strategic plan, which will include an assessment of its accomplishments in expansion of its membership base and delivery of seminars and other training programmes aimed at enhancing the knowledge base of members. Ramnauth also said that among the critical objectives identified in the chamber's 2010 Work Plan are the creation of follow-up mechanisms aimed at strengthening links with non-members and the promotion of enhanced customer service standards among members of the chamber.
According to Ramnauth, the GCCI will be seeking to work more closely with the Private Sector Commission "in order to ensure that we can speak with one voice on issues that have to do with the well-being of the business community."
Around the Web