The Culture & Herbs Boutique & Variety Stall inside Bourda Market provides encouraging evidence of modest enterprise that allows an attractive reminder of the African tradition of Guyanese culture. The aroma of incenses wafting from the neatly appointed stalls 63 & 64, positioned in the third row of the municipal market north of Regent Street encourages passers-by to enquire more closely. Closer enquiry brings an encounter with a collection of mainly African clothing in a riot of colour, eye-catching top and skirt/pants combination suits boasting Nigerian and Ghanian designs and other items of clothing that reflect the traditional cultures of the west African states of Mali and Benin. There are bright magentas, sea greens, turquoise, purple, royal blue, burnt gold and bronze pieces trimmed with dark contrasts, gold thread, lace and knitted edges.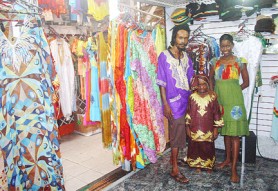 The floor of the premises is covered with carefully washed tile, a striking contrast from the more Spartan surroundings of nearby stalls offering mostly foods, including meat and fish for sale. Richard Taylor, the proprietor, washes the tiles every day. He understands the importance of creating an ambience that will bring customers in. The atmosphere, affected by the customary market smells, is treated with the scent of burning incense sticks. His business is about scents too. Bottles of oils with labels marked Amber, Eucalyptus, Hempire Myrrh, Frankincense, Sandalwood, In Control and Lavender are displayed for sale.
Business, Ras Richard says, has been negatively impacted by the global financial and economic crisis. Reduced remittances has shrunk his clientele and significantly reduced sales.  Inevitably, he has had to reduce both the quality and frequency of his imports.
August, the month of celebration for descendants of African slaves is two weeks away. It is 'the commercial season' for this small establishment. Stock, Ras Richard says, is moving, but slowly. "Imagine that this is the middle of Emancipation season.  We were accustomed to being busy from June.  These days everything in Guyana comes down to the last minute … everything."
At the beginning of July, a month before Emancipation Day, the one-stop culture shop was missing its customary 'buzz,' its visits by regular customers, eyeing up potential acquisitions and calls from 'regulars' with enquiries and about the focus of African wear for this year's Emancipation celebrations.  Ras Richard is concerned that the local celebration of African Emancipation might be losing its energy. People, he believes, might be too "bugged out" with their economic difficulties. He is hoping though that business might be lifted by a last-minute rush by customers to secure their customary outfits.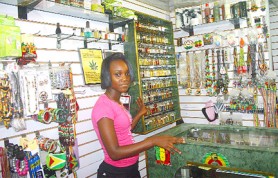 A few years ago Ras Richard introduced a balance parcel purchasing arrangement for his faithful customers, designed both to retain their patronage and to ensure that they remained in style for the Emancipation season. It has helped to some extent.
Reduced sales began to become manifest in February 2009. February is Black History Month, another period that has traditionally been good for sales. Last year, sales plummeted and while the period between May and August – the period of annual Rastafari celebrations – brought something of a windfall, the general trend has been downward.
Ras Richard says he is prepared to "roll with the tide." He is not indifferent to the decline in commercial activity but is comforted by the fact that what he offers is also a source of education and cultural relevance for his clientele. He concedes, though, that things are tough. "I have to keep rotating capital and investing in other things to subsidize this business." The stall displays small items of cultural memorabilia, featuring the legendary Jamaican reggae singer and Rastafarian, Robert Nesta Marley; ites, green and gold necklaces; hand bands; key rings; belts; tassels; tamps and other hats, all concessions to the local art and craft industry. To these he has added a range of generic cosmetics which, he says are "good sellers." He chooses the moment to advertise the popular 'black soap', fashionable, he says, for its properties that cleanse and tone and cosmetics that contain Shea butter, a 'new and improved' cocoa butter, and other natural products that contain no alcohol or spirits.
Richard agrees that his enterprise would benefit from an aggressive infusion of marketing to increase its client base and generate additional interest in the goods he offers. His current approach to advertising is on one-on-one contact made during community visits and educational programmes run by the African Cultural Development Association (ACDA) and other 'African' councils in Guyana. That, he concedes, has its limitations.
Still, he persists in a close relationship with ACDA and the Emancipation Committee.  Each year the committee identifies an African country, pairs it with a village in Guyana that has a strong African influence, and designs an exhibition, stage shows and community work programme that showcase the culture of both the selected country and the local host village.
This year the focus is on Ethiopia, the East African country that was ruled in time past by Emperor Haile Selassie, a man revered among Rastafarians.  Vergenoegen on the West Coast Demerara is the local village twinned to Ethiopia for the 2010 event.
Ras Richard believes that the development of a viable local small business culture depends on the support of the mainstream business community.  "I've had to go it almost alone since I set up this business in 1997," he says. His plans for expansion saw him approach local lending agencies with carefully prepared expansion plans. He eventually received two small loans from Micro Fin. The repayment terms, he says, were "tough".
Despite his setbacks, Ras Richard has maintained a practice of keeping prices affordable to a generally less than affluent clientele. While it is generally accepted that authentic African apparel and can be pricey, Ras Richard says he does what he can to maintain a balance between price and affordability.
He wants to continue to build a strong and loyal client base. The balance parcel system allows customers to acquire entire outfits for around $18,000. The ensemble could include Nigerian wedding-style combination suits adorned with intricate patterning and threadwork. Such outfits often fetch three times that price.
Corrine Taylor-Blackmore, Richard's mother, has been his main backer. She provides timely remittances with which to sustain the enterprise and purchases and ships fabric and apparel from the United States with which to stock the stall. Prior to migrating in 1985, Corrine ran a shoe store out of the same facility. Richard attempted to resuscitate the shoe business in 1997 but changed his mind on account of the competition in the market. By then he had joined the Rastafarian faith and had decided that he might make a fist of plying his trade in the niche market that had been created through the growth in Afro-centric fashion consciousness in Guyana.
Over the past 13 years, the enterprise has expanded from a single stall to two stalls. Richard has constructed overhead storage space, tiled the bare concrete floors and repainted the walls. At his own expense, he completed minor repairs to the roof of the market immediately above his business area, replacing the old electric lighting with skylight.
Richard plans to turn run his entrepreneurial attention to education.  Growth plans include adding African CDs/DVDs, books and other learning material to the existing collection of artifacts and cosmetics, African clothing and accessories, natural products and uncut fragrant oils that are already a part of the store's standard fare.
Around the Web